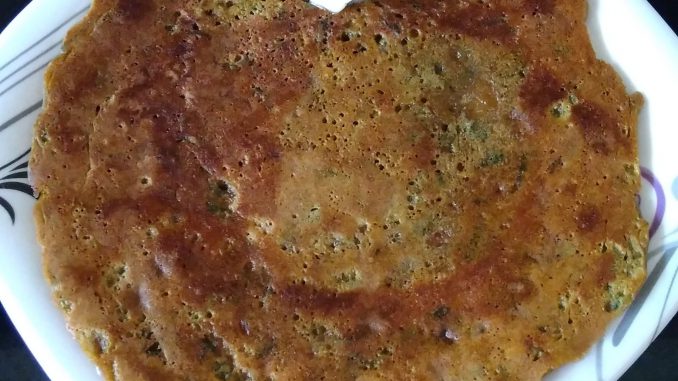 Methi Jaggery Bhakari (Methi Sweet Chilla / Fenugreek Leaves Pan Cake)
This is a Goan / Konkani dish. Methi / Fresh Fenugreek gives a slight bitter taste to this sweet Bhakari / Pan Cake to make it delicious. This is a healthy and quick breakfast / snack dish.
Ingredients
Chopped Methi (fenugreek)Leaves 1 cup
Wheat Flour 1.5 cup
Rava (Semolina) Fine 4 tablespoon
Jaggery crushed 2 tablespoon
Green Chilly paste 1 teaspoon
Tamarind dry pulp ½ teaspoon or buttermilk 2 tablespoon
Turmeric powder (Haldi) ¼ teaspoon
Fresh Scraped coconut 1 tablespoon (optional)
White Sesame Seeds (Til)  1 tablespoon
Salt to taste
Oil / Butter 1 tablespoon
Instructions
1. Mix all ingredients except oil/ghee in a bowl.
2. Add water as required and mix to get a consistency thicker than Bhajia / Pan Cake batter.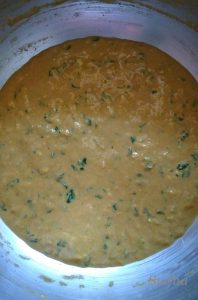 3. Heat a flat non stick Griddle (Tava).
4. Put 2 spoonful of batter on the griddle, take little water in the hand and spread the batter evenly by using the fingers.
5. Cover it with a lid and cook on medium flame.
6. After 2-3 minutes, put a few drops of oil/butter on Bhakari and flip it over.
7. Cook both sides to get light brown colour. Serve hot with Ghee (Clarified Butter) / Butter. This delicious Bhakari tastes good without Ghee / butter also.