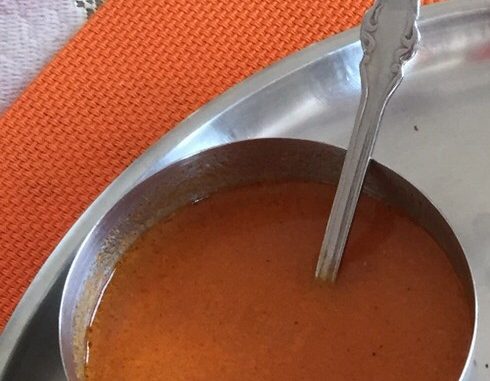 Tomato Saar (Maharashtrian Style Tomato Soup) – No Onion, Garlic recipe
This is a Maharashtrian recipe. It is different from Tomato Soup. This is generally served along with Pulav or Masale Bhaat. But you can serve this as soup also. It requires very few ingredients. It's very tasty.
Ingredients
Tomatoes 4 medium size
Fresh Scraped Coconut ½ cup
Green Chillies 2
Sugar ½ teaspoon
Salt to taste
For Tempering (Tadka)
Pure Ghee / Clarified Butter ½ teaspoon
Cumin Seeds ¼ teaspoon
Asafoetida (Hing) a pinch
Curry Leaves ¼ teaspoon
Instructions
1. Cook tomatoes in boiling water for 3 minutes
2. Drain the hot water and pour in cold water
3. On cooling peel the tomatoes to get blanched tomatoes
4. Grind fresh scraped coconut along with 1 cup of water
5. Squeeze ground coconut to get coconut milk
6. Blend blanched tomatoes and green chillies in a blender
7. Strain blended tomatoes into coconut milk
8. Add salt, sugar and bring to boil; cook for 5 minutes
9. For Tempering, heat pure ghee in a ladle on medium flame
10. Add cumin seeds; wait till it sputters
11. Add asafoetida (hing) and curry leaves
12. Pour this tempering over the mixture in step 8 and mix well. Delicious Tomato Saar is ready. Serve hot.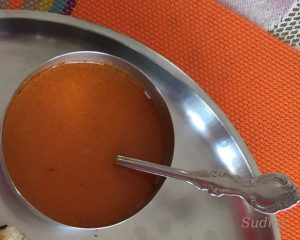 Note
You may add ginger paste to this Saar. If you want, add it in step 8.