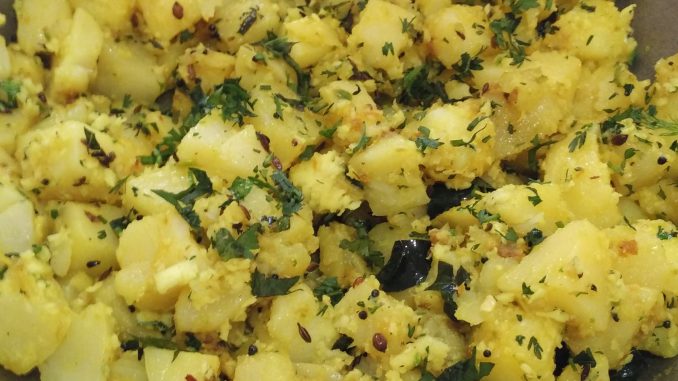 Batata Bhaaji (Potato Subji)
This is Maharashtrian style Potato Subji that we generally make on auspicious occasions as a part of meal. You will find this in traditional Maharashtrian meals. This subji does not contain Onion and Garlic. This is a very easy recipe and does not require too many ingredients. This bhaaji is very tasty.
Ingredients
Boiled Potatoes 8 medium size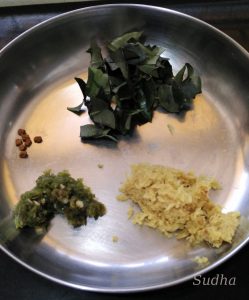 Crushed Chillies 1 teaspoon
Curry leaves 7-8
Crushed Ginger 1 teaspoon
Fresh Scraped coconut 1 tablespoon
Chopped coriander 1 teaspoon
Lemon Juice ½ teaspoon
Sugar ½ teaspoon
Salt to taste
For Tempering / Tadka
Oil 1 teaspoon
Mustard Seeds ¼ teaspoon
Cumin Seeds ¼ teaspoon
Turmeric Powder ½ teaspoon
Asafoetida (Hing) ¼ teaspoon
Fenugreek (Methi) Seeds 5-6
Instructions
1. Peel Boiled Potatoes and cut into medium size pieces.
2. In a wok, heat oil on medium heat.
3. Add mustard seeds, wait for splutter; add cumin seeds, wait for splutter
4. Add turmeric powder, asafoetida, fenugreek seeds, crushed chillies, crushed ginger and curry leaves. (I always make small pieces of curry leaves so that one can easily eat them).
5. Add potato pieces. Mix.
6. Add Sugar, Salt, Lemon juice, Scraped coconut, chopped coriander and gently mix.
7. Cook for 2 minutes and this tasty Batata Bhaaji is ready.
8. Serve hot with Puri or Roti (Indian Bread).