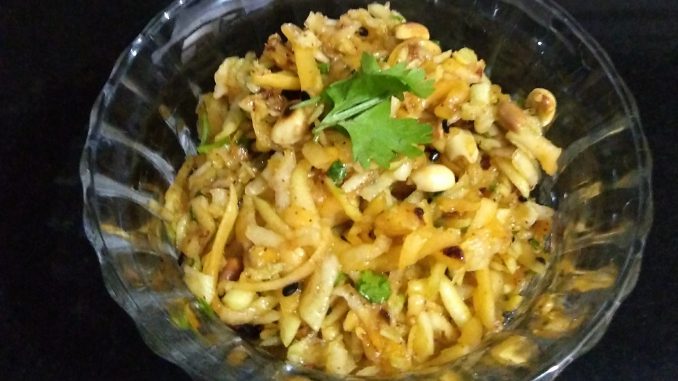 Piri Piri Raw Papaya Salad
I created this recipe that primarily uses Raw Papaya. To give it a different flavor, I used Piri Piri Spice Powder (This is easily available in the market). This quick and healthy Salad is very tasty.
Ingredients
Grated Raw Papaya 1 cup (Grate after peeling)
Roasted peanuts 2 teaspoon
Roasted black sesame seeds ½ teaspoon
Piri Piri Powder 1 teaspoon (adjust as per taste)
Grated Raw Mango 1 teaspoon or lemon juice ½ teaspoon
Chopped coriander  1 teaspoon
Black Salt ¼ teaspoon
Sugar ½ teaspoon
Salt to taste
Instructions
1. Mix all ingredients except black sesame seeds. Keep in refrigerator to chill.
2. Just before serving add sesame seeds and mix.
3. Serve chilled.