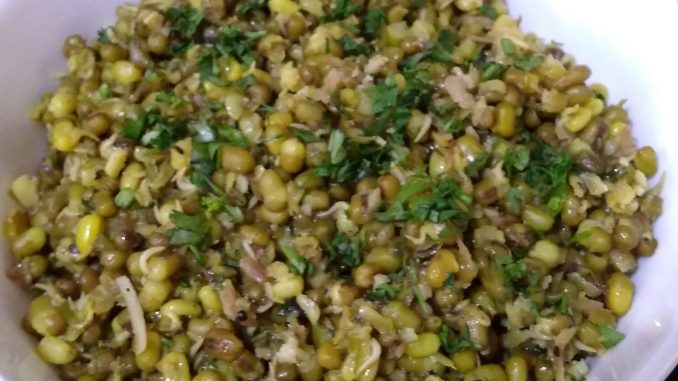 Mugachi Usal / Moong Usal / Green Gram Subji
Usal is a subji with gravy made from pulses. In Maharashtra, we make different types of Usal. Pulses being excellent source of proteins, these Usals are very healthy. They are very tasty as well. This recipe of Moong Usal does not use onion, garlic.
Ingredients
Green Moong / Green Gram 1 cup
Dried Coconut (Kopra) grated ¼ cup
Cumin (Jeera) powder 1 teaspoon
Mango Powder (Aamchur) ½ tablespoon
Green Chilly Paste ½ teaspoon
Fresh Scraped Coconut 1 tablespoon
Chopped Coriander Leaves 1 tablespoon
Sugar 1 teaspoon (Adjust as per taste)
Oil 1 teaspoon
Mustard Seeds ¼ teaspoon
Cumin Seeds (Jeera) ¼ teaspoon
Turmeric Powder ¼ teaspoon
Asafoetida (Hing) a pinch
Salt to taste
Instructions
1. Soak green moong in water for 6-8 hours
2. Drain them and wrap in thin towel, tie tightly and keep it in covered pan for 8 hours.
3. Moong will be sprouted. Wash Moong with water
4. Roast the grated dried coconut (khobra) till light brown. Allow it to cool.
5. Crush roasted dried coconut by hand to get a coarse powder
6. Heat oil in a pan.
7. Add mustard seeds, wait till splutter; add cumin seeds, wait till splutter
8. Add turmeric powder and Asafoetida (hing). Add chilly paste
9. Add sprouted Moong, Sauté and cook covered for 2 minutes. Remove the lid, sauté and cook covered for 2 minutes.
10. Add water to cover half the moong; cook covered for 3-4 minutes.
11. Add crushed dried coconut, fresh grated coconut, jeera powder, aamchur, salt, sugar and cook covered till Moong are soft. Add water if required.
12. Add chopped coriander and serve hot with Roti (Indian Bread).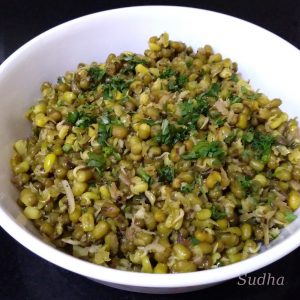 Note
If you want, you can add onions to this usal. It tastes nice. For this, finely chop 1 medium onion and add it to tempering/ tadka along with Moong in step 9 above.