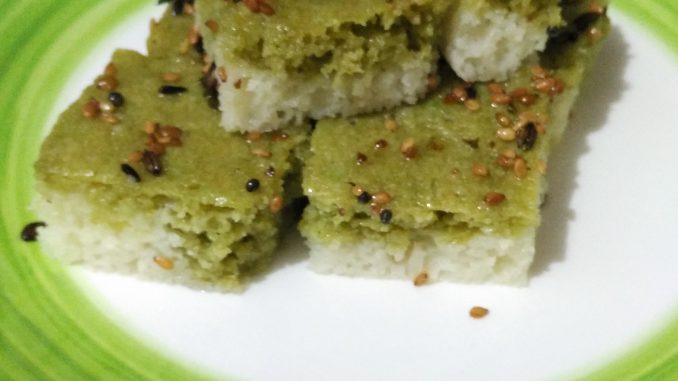 Palak Rawa Dhokla – Spinach Semolina Savory Cake (No Fermentation Required)
This is instant Dhokla using Palak (Spinach) and Rawa (Semolina). No fermentation is required. This is a variation of Semolina Dhokla by adding Spinach to enhance the taste. It's a two layered Dhokla. Very easy and quick recipe that makes tasty Dhokla.
Ingredients
Barik Rawa (Fine Semolina) 1 cup
Buttermilk 1 cup
Palak Puree (Spinach Puree) ½ cup
Chilly Ginger Paste ½ teaspoon
Salt to taste
Eno Fruit salt 1 teaspoon
Oil 1 tablespoon
For Tadka (Tempering)
Oil 1 tablespoon
Mustard Seeds ½ teaspoon
Cumin Seeds ½ teaspoon
Asafoetida a pinch
Sesame Seeds 1 teaspoon
Curry leaves 8-10
Instructions
1. For make Palak Puree, wash Palak leaves, cook in microwave on high power for 3 minutes; do not cover the bowl; On cooling, blend leaves in a smooth paste
2. In a bowl, add buttermilk, Chilly ginger paste and salt to Rawa and mix it. Consistency should be like Idli batter (Pan Cake Batter). Keep it for 5 minutes
3. Grease Dhokla plate with oil
4. Put water in dhokla steamer and heat water on high flame
5. Divide the batter in 2 parts. In one part add Palak puree and mix
6. Add half teaspoon Eno fruit salt in the white batter, add a spoonful of water and mix it in one direction. Add remaining Eno in green batter, add a spoonful of water and mix in one direction
7. Quickly Pour the white batter in the greased plate and then pour the green one.
8. Place the plate in hot dhokla steamer and steam for 20 minutes
9. When Dhokla is cool, cut it into pieces using a knife.
10. Make Tadka (Tempering) with Mustard Seeds, Cumin Seeds, Asafoetida, Curry leaves and Sesame Seeds.
11. Pour this Tadka (Tempering) on Dhokla.
12. Serve hot Dhokla with Chutney and /or Tomato sauce.