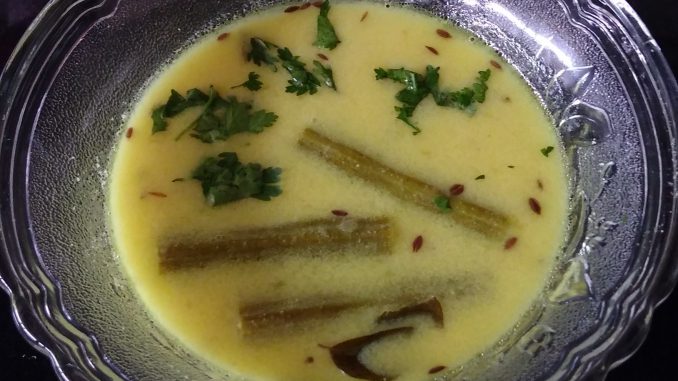 Drumsticks Kadhi (Inspired by Drumsticks Soup)
Kadhi is made in many regions in India wherever people have curd / buttermilk. Also the taste and texture of Kadhi differs from region to region. Maharashtrian Kadhi is not very thick and has a right balance of sourness and sweetness. We do add green chillies to it but don't make it hot (Pungent). Curd or Buttermilk is the main ingredient of Kadhi. Taking inspiration from my Drumsticks Soup, I made a variation to Kadhi by adding drumsticks along with drumsticks pulp. It gave a nice delicious aroma and taste to the Kadhi. Try this variation. You will like it.
Ingredients
Buttermilk 2.5 cups
Drumsticks 3
Besan (Gram Flour) or Rice Flour 1 teaspoon
Green Chilly Paste ½ teaspoon
Curry Leaves 7-8
Turmeric Powder ½ teaspoon
Ghee (Clarified Butter) 1 teaspoon
Cumin Seeds ½ teaspoon
Asafoetida (Hing) a pinch
Fenugreek (Methi) seeds 5-6
Sugar 1 teaspoon (Adjust as per taste)
Salt to taste
Instructions
1. Wash and cut Drumsticks into 2-3 inch long pieces. Add them to a pan; add about a cup of water and ¼ teaspoon salt and cook on low flame without lid till Drumstick are soft. Add water if required. You should be able to press them with fingers. Do not overcook. Leave them to cool. Do not throw away the water that you used for cooking drumsticks.
2. In a pan, add buttermilk, chilly paste, salt, sugar, chopped curry leaves and turmeric powder.
3. Take out pieces of 1 drumstick; break it open and with a spoon scoop out the pulp. Collect it in a grinder. We'll use remaining drumstick pieces as it is.
4. Add Besan / Rice flour to the grinder. Grind the mixture together into a smooth paste.
5. Add this paste to buttermilk mixture and mix.
6. Heat buttermilk mixture on medium heat stirring all the time till mixture starts boiling. You need to stir the mixture now.
7. Boil for 5 minutes and then add cooked drumsticks pieces to it.
8. Continue to cook for 5-7 minutes. Adjust consistency of the mixture by adding water if required.
9. In a small ladle, heat Ghee. Add cumin seeds, wait for splutter. Add Asafoetida and fenugreek seeds. Pour this tempering into buttermilk mixture. Mix well.
10. Delicious Drumsticks Kadhi is ready. Serve hot with Roti (Indian Bread) or Rice or Pulav with a spoonful of home made ghee. It tastes awesome.