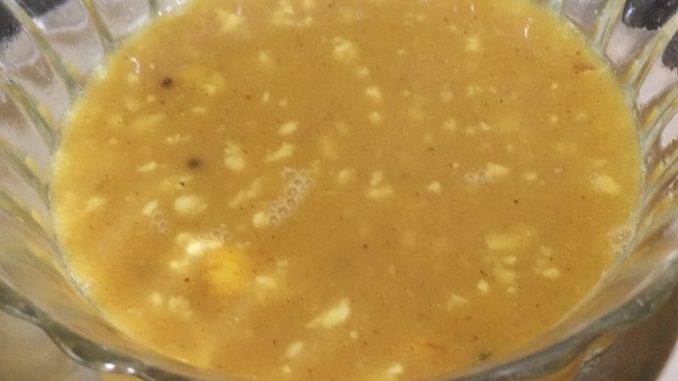 Kulith Pithale – Konkan Specialty – Curry using Horse Gram Flour

This is a famous curry from Konkan. Very healthy and quick dish (as always from me). Kulith (Horse Gram in English) is a king of Pulses grown in Konkan. We make very tasty Usal of Kulith. You can find Kulith Usal recipe on my blog. Kulith is roasted and ground to make Kulith Peeth (Flour). Kulith Pithale is made from Kulith Flour. You will find Kulith flour in shops that sell products from Konkan.
Ingredients
Kulith Flour 3 tablespoons
Scraped Fresh Coconut 1 teaspoon
Kokum 4 Nos.
Garlic 10 cloves peeled,diced
Green Chilly Paste ½ teaspoon
Oil ½ teaspoon
Mustard Seeds ¼ teaspoon
Turmeric Powder ¼ teaspoon
Asafoetida a pinch
salt to taste
Instructions
1. Heat oil in a pan on medium flame.
2. Add mustard seed, wait till it sputters.
3. Add garlic pieces and fry till light brown.
4. Add Turmeric Powder and Asafoetida. Add Chilly Paste.
5. Add 1 litre water.
6. Add salt, kokum, Scraped coconut and bring to boil.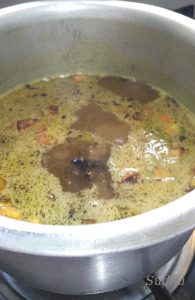 7. Reduce the flame to low.
8. Sprinkle one tablespoon of kulith flour. It is preferred to sprinkle using your fingers to avoid lumps.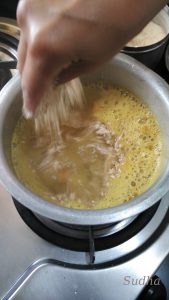 9. Turn up the heat and let kulith flour mix in, stir to ensure that no lumps are formed.
10. Repeat step 7 to 9 till all the kulith flour is added. Initially the mixture may look watery but as it gets cooked it gets thicker.
11. Cook on low flame for 10 minutes, stir every 2 minutes.
12. The consistency should be like "Dal Fry", add water if consistency is too thick.
Serve hot with roti (Indian Bread) or rice. Rice with Kulith Pithale and a spoonful of home made Ghee (clarified butter) is relished as heavenly meal by most people in Konkan.