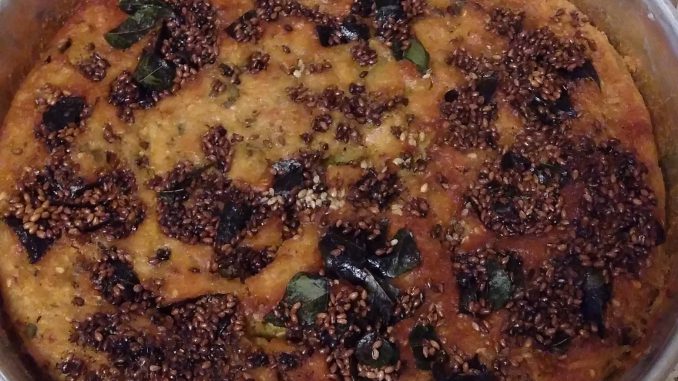 Handvo (Savory Vegetable Cake)

This is a popular Gujarati snack. This is an easy recipe of a healthy and tasty snack. I've used Handvo dry flour that is available in grocery store.
Ingredients
Handvo Flour 1 cup (this is easily available in grocery store)
Curd ¼ cup
Bottle Gourd (Dudhi) Grated 1 cup (use along with peel if peel is tender)
Oil 2 Tablespoon
Baking Soda a pinch + Fruit salt 1 teaspoon OR
Baking Soda ½ teaspoon
Chilly Paste ½ teaspoon
Ginger paste ½ teaspoon
Cumin Powder ¼ teaspoon
Coriander Powder ¼ teaspoon
Turmeric Powder ¼ teaspoon
White Sesame Seeds 1 tablespoon
Sugar 1 tablespoon
Salt to taste
For Tempering
Oil 1 tablespoon
Mustard Seeds ½ teaspoon
Asafoetida a pinch
Curry leaves 8-10
White Sesame Seeds 1 teaspoon
Instructions
1. Mix Handvo flour, Curd and some water to make a thick batter – thicker than Idli / Pan Cake batter. Keep it for 6-8 hour for fermentation
2. Add grated Bottle Gourd, chilly paste, ginger paste, cumin powder, coriander powder, sugar, Turmeric powder, white sesame seeds and salt. Mix well. If batter is too thick add some water. Consistency should be like Idli / Pan Cake batter.
3. Add oil and baking soda. Mix well.
4. Pre-heat over on 200 degrees Celsius.
5. In a small griddle, heat oil for tempering on low flame. Add mustard seeds and wait for splutter. Add Asafoetida, Sesame seeds and curry leaves. Switch off the gas.
6. Grease the baking tray with oil
7. Add Fruit Salt to Handvo batter and mix well
8. Pour the batter in the greased baking tray
9. Spread Tempering on Handvo batter to cover the surface. Do not Mix the batter.
10. Bake on 200 degrees Celsius for 50 to 60 minutes. When the edges of Handvo are brown and the knife comes out clean, Handvo is done.
11. Serve with Chutney of you choice. You can eat Handvo hot or cold. It tastes yummy.
Note:
1. Instead of / In addition to Bottle Gourd, you can add Carrots.
2. You can also add chopped coriander if you like.
3. Another variation is to add chopped garlic to tempering. This gives a nice taste to Handvo.
4. You can add white sesame seeds in tempering only and not add in the batter. Alternatively, you can skip sesame seeds from the tempering and add only in batter. But sesame seeds added to tempering makes Handvo more delicious.