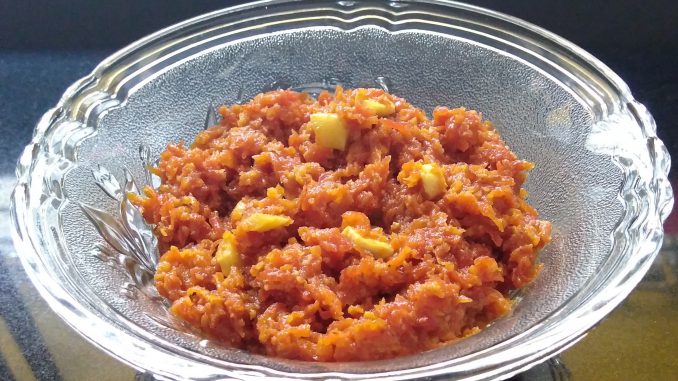 Gajar Naral Halwa (Carrot Coconut Halwa)
This is a white sugar-free yet delicious recipe of Gajar Halwa with little twist. I used Sugarcane Molasses for sweetness and added some fresh scraped coconut to enhance the taste of Halwa.
Ingredients
Grated Carrots 2 cups
Fresh Scraped coconut ¾ cup
Sugarcane Molasses 5-6 tablespoon (Adjust as per taste)
Cashew Nuts 7-8
Mawa (dehydrated Milk Solids) ½ cup
Cardamom Powder ¼ teaspoon
Cinnamon Powder ¼ teaspoon
Desi Ghee (Clarified butter) ½ teaspoon
Milk ¼ cup
Salt a pinch (optional)
Instructions
1. Wash and grate Carrots.
2. Chop Cashew nuts into pieces.
3. In a thick bottom pan, heat ghee.
4. Add grated Carrots and sauté for a minute
5. Cook covered without adding water till carrot is soft. Keep stirring after every 3-4 minutes.
6. Add scraped coconut and mix well. Add Milk. Cook for another 10 minutes.
7. Add molasses. Mix and cook without lid.
8. Mixture will release water initially. When you cook further, it will start thickening.
9. Loosen Mawa in a plate. When there is not much water in the mixture, add Mawa to the pan. Mix well to ensure there are no lumps of mawa.
10. Add salt (I add salt in almost all sweet dishes except Basundi/Rabdi, it enhances the taste; If you don't like salt, don't add)
11. Add Cashew nuts and cardamom powder, cinnamon powder; Keep cooking.
12. When all the water evaporates, switch off the gas.
13. Delicious Sugar-free Carrot Coconut Halwa is ready. Enjoy it the way you like – hot or cold.
14. You can store this Halwa in refrigerator for 3-4 days.