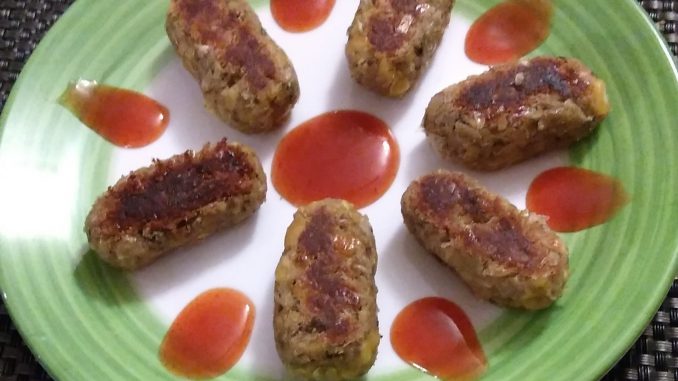 Suran Makai Cutlet (सुरण मकाई कटलेट) – Yam Corn Cutlets – No Onion, Garlic Recipe
सुरण मकाई कटलेट मराठी
Many people don't like Suran (Yam). But if you try this quick and tasty recipe of cutlets, you will like it. I wanted to call this Suran Makai Tikki. But was confused about a Tikki and a Cutlet. Then Google informed me that a Tikki has some filling inside and cutlet does not. So by that definition, this is Suran Makai Cutlet – not a Tikki.
Ingredients (makes 15-18 cutlets)
Yam (Suran) ¼ kilogram
Sweet Corn Kernel (Makyache Dane) 1 cup
Green Chilly Paste ½ teaspoon
Garam Masala ½ teaspoon
Kokum 4 Nos.
Coriander leaves Chopped 1 teaspoon
Ginger paste ½ teaspoon
Bread crumbs / Roasted Dalia (Split Gram) powder / Oats 2 tablespoons (if required)
Rice Flour / Fine Semolina 2 Tablespoon (Optional)
Salt to taste
Oil for Shallow frying
Instructions
1. Wash and Peel Yam (Suran) and cut into slices about ¼ cm. thick, about 3 x 3 cm. square.
2. Steam the cut Yam in a pressure cooker after adding kokum and little salt. If you don't have Kokum, You can use tamarind.
3. Separately steam corn kernel (makyache dane) till soft.
4. Drain excess water from steamed yam and remove the kokum.
5. Mash steamed yam . Grind boiled corn into a coarse mixture.
6. Add corn, salt, Garam Masala, Green chilly paste, Ginger paste and chopped coriander to the mashed yam and mix well.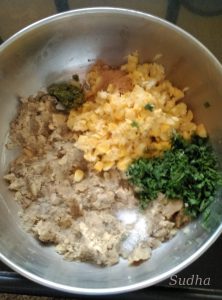 7. If the dough is soft, add bread crumbs / roasted dalia powder / Oats to make firm consistency dough.
8. Make small round flat patties or finger shaped patties.
9. Shallow fry till the patties are light brown. If you like, you can roll the patties in Semolina (Rava) or Rice Flour before shallow frying.
10. While frying you may add a little of oil to grease the pan.
serve hot with chutney.
Note: Your palms may start itching after cutting Yam. Apply some kokum or tamarind to your palms; rub properly; leave for 2-3 minutes and then wash your palms using soap. Itching will stop.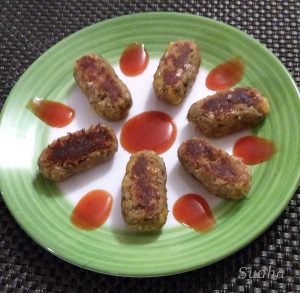 ===================================================================================
सुरण मकाई कटलेट
सुरण बऱ्याच जणांना आवडत नाही. मक्याचे दाणे घालून हे सुरण कटलेट करून पहा. सगळे आवडीने खातील. अगदी सोपी रेसिपि – नाश्ता किंवा साईड डिश म्हणून बनवता येईल. मुलांना डब्यात द्यायला ही छान पदार्थ आहे. कांदा लसूण नसलेली ही रेसिपी श्रावणात सुद्धा बनवता येईल.
साहित्य
सुरण पाव किलो
मक्याचे दाणे एक कप
हिरवी मिरची ठेचून अर्धा चमचा
गरम मसाला अर्धा चमचा
कोकम ४–५
आलं ठेचून अर्धा चमचा
चिरलेली कोथिंबीर १ चमचा
ब्रेडचा चुरा / ओट्स २ टेबलस्पून (जरूर पडल्यास )मीठ चवीनुसार
तांदुळाचं पीठ / बारीक रवा २ टेबलस्पून (ऐच्छिक)
तेल शॅलो फ्राय करायला
कृती
१.सुरण धुवून सालं काढून चिरून घ्या. मोठे काप करा. मीठ आणि कोकम घालून प्रेशर कुकर मध्ये वाफवून घ्या.सुरणात पाणी घालू नका.
२.मक्याचे दाणे वाफवून घ्या. कोकम काढून टाका व सुरण मॅश करून घ्या. मक्याचे दाणे जाडसर वाटून घ्या.
३.आता सुरण, मक्याचे दाणे, गरम मसाला, आले मिरचीचा ठेचा, मीठ आणि कोथिंबीर एकत्र मिक्स करून घ्या. ओलसर असेल तर थोडे ब्रेड क्रम्ब्स किंवा ओट्स घालून मिक्स करा.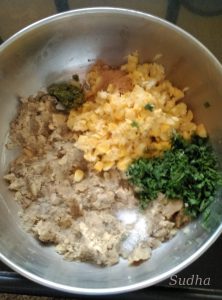 ४.आवडीप्रमाणे शेप देऊन कटलेट बनवा आणि तांदुळाच्या पिठात/ रव्यात घोळवून तव्यावर शॅलो फ्राय करून घ्या. (रवा / पीठ न लावता असेच भाजले तरी चालतात). चटणी / सॉस बरोबर सर्व्ह करा चमचमीत सुरण मकाई कटलेट.