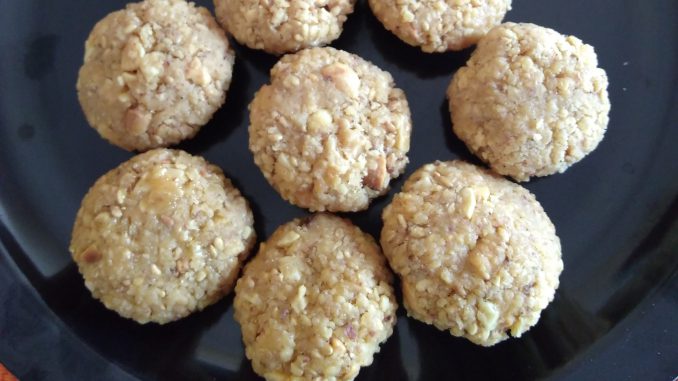 Khatkhate (खटखटे – Goan Coconut Candy – Sugar-free)
Coconut Burfi or Khoparapak is very common in different parts of India. However, In Goa, there is a different way to make Coconut Burfi. Jaggery is used instead of Sugar to make it more healthy and ginger is added to give a different flavor. Ginger makes this sweet Jaggery coconut candy very delicious.
Ingredients
Fresh scraped coconut 2 cups
Crushed Jaggery 2 cups
Crushed Ginger 1.5 teaspoon
Peanuts ¼ cup
Sesame Seeds 2 tablespoon
Cardamom (Eliachy) Powder ¼ teaspoon
Ghee (Clarified Butter) 1 teaspoon
Instructions
1. Roast peanuts; remove peels and roughly pound it.
2. Dry roast sesame seeds.
3. In a heavy bottom pan, add ½ teaspoon ghee along with Jaggery and cook on low flame to melt Jaggery .
4. Add Coconut and Crushed Ginger. Keep cooking on low flame stirring all the time.
5. Keep a greased plate ready for transferring the mixture.
6. When mixture starts coming together, switch off the gas.
7. Add Peanuts, Sesame Seeds and Cardamom powder. Mix.
8. Transfer the mixture to the greased plate; don't spread it.
9. When mixture is warm, quickly make small bite size balls and flatten them a bit. Grease your palms with ghee while making balls, if required.
10. Enjoy this Goan specialty Khatkhate. This can be an any time snack.
11. You can store this at room temperature for a week.
Note
Instead of peanuts, you can add finely chopped cashew nuts.