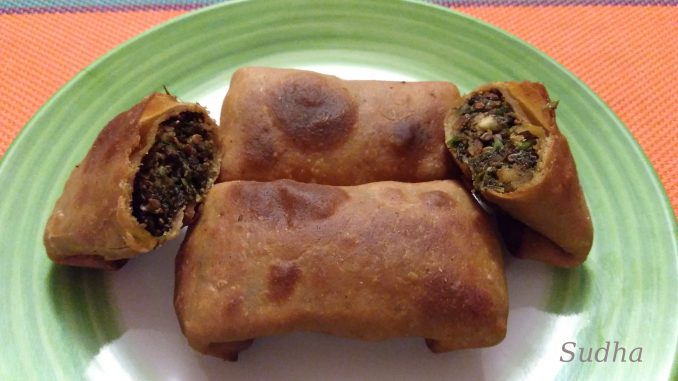 Pudachi Vadi / Sambhar Vadi (Stuffed Coriander Crispy Packets)
This is a specialty from Nagpur / Vidarbh region in Maharashtra. Sambhar means fresh Coriander. Coriander stuffing is filled in dough covering and these packets are deep fried. It's little lengthy process but these crispy packets are very yummy. Worth making these 2-3 times in winter when fresh coriander is amply available. There are different recipes for Pudachi Vadi. I followed this one and the result was awesome.
Ingredients
For Stuffing
Finely chopped fresh coriander 1.5 cups
Sesame seeds 1 tablespoon
Grated dry coconut 3 tablespoon
Finely chopped medium size Onion 1
Ginger Garlic Paste 1 teaspoon
Green Chilly Paste ½ teaspoon
Amchoor (Mango Powder) ½ teaspoon
Goda Masala (Spice Powder) ½ teaspoon
Poppy Seeds (Khaskhas) 1 tablespoon
Chilly Powder ½ teaspoon
Turmeric Powder ¼ teaspoon
Asafoetida a pinch
Powdered Sugar ½ teaspoon (Optional; Add if you like)
Oil ½ teaspoon
Salt to taste
For Cover
Wheat Flour ½ cup
Besan (Bengal Gram Flour) ¼ cup
Oil 2 tablespoon
Chilly Powder ½ teaspoon
Turmeric Powder ¼ teaspoon
Asafoetida a pinch
Salt to taste
Oil for deep frying Pudachi Vadi
Instructions
1. For Cover dough – Mix wheat flour, besan, chilly powder, turmeric powder, asafoetida and salt. Heat 2 tablespoon oil and add to this mixture. Using water bind a stiff dough. Cover it and Leave it to rest.
2. For Stuffing – In a pan, dry roast sesame seeds and grated dry coconut separately till light brown. Leave it to cool.
3. In the same pan, heat ½ teaspoon oil on medium flame. Add chopped onion. Sauté for 2-3 minutes. Add ginger, garlic paste and chilly paste. Mix. Add Poppy seeds and sauté till onion is translucent. Switch off the gas.
4. In a bowl, add chopped coriander, onion mixture, sesame seeds, roasted dry coconut (crush a bit using fingers), aamchoor, goda masala, chilly powder, turmeric powder, Asafoetida, powdered sugar and salt. Mix well. Stuffing is ready.
5. Take a small dough ball and roll a round puri. Place a tablespoon of stuffing in the middle. Fold the puri from both sides such that it forms a roll. Press the layers so that they stick together. Now fold the other 2 sides to form a rectangular packet. Press the edges to seal it properly. Prepare all packets this way.
6. In a wok, heat oil. Turn the flame to low. Gently slide in a packet and deep fry on low flame till it's light brown from both sides.
7. Yummy Pudachi Vadi is ready. Serve hot. As such you don't need any chutney / sauce with it.