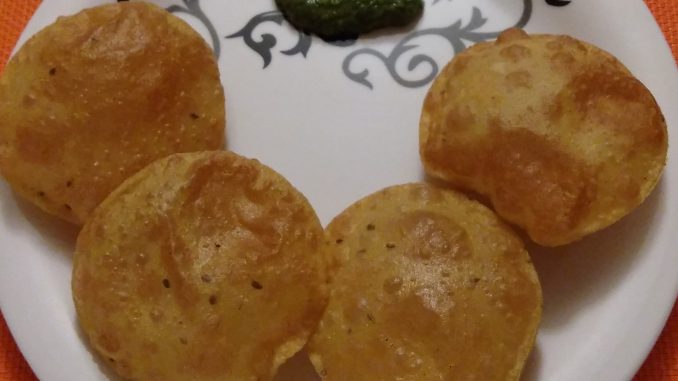 Tikhat Mithachya Purya (Spicy Puri / Indian Bread)
These are Puri's with added spices. In Maharashtra, we call it Tikhat Mithachi Puri (Namkeen / Spicy Puri). I'm sure, every region in India will have something similar with a different name.
Ingredients
Wheat Flour 1 cup
Besan (Bengal Gram Flour) ¼ cup
Chilly Powder ½ teaspoon
Turmeric Powder ¼ teaspoon
Asafoetida a pinch
Ajwain (Carom Seeds) ½ teaspoon
Oil 1 teaspoon
Salt to taste
Oil for deep frying Puri
Instructions
1. Mix all the ingredients and bind a stiff dough using water. Leave it to rest for 30 minutes.
2. Take a small dough ball and roll a round puri and deep fry in hot oil on medium flame.
3. Serve these fluffy Puri's with Chutney / Sauce / Curd. You can serve these as a part of meal or for breakfast or evening snack.