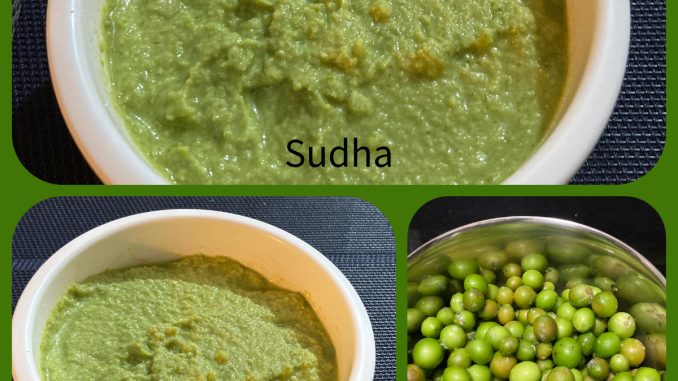 Kachchya Karavandachi Chutney – Raw Carissa Carandas / Bengal Current / Karonda Chutney
There are various types of Fresh Chutney. Chutney must have an ingredient that gives a sour taste. Generally we add such an ingredient in a small quantity. But for this Chutney, Raw Karavand is one of the main ingredients. Raw Karavand is available in Summer. It's very sour. I add Fresh coconut and Split roasted Chana along with Karavand. This gives the right texture to the chutney. The Chutney is little sour but very yummy.
Ingredients (1 cup = 250 ml)
Raw Karavand ½ cup
Fresh grated coconut ½ cup
Dalia (Split roasted chana) ½ tablespoons
Chopped coriander 2-3 tablespoons (if you have tender stems of coriander, add them as well)
Green chilies 3-4
Sugar ½ -1 teaspoon
Salt to taste
Instructions
1. Wash Raw Karavand in warm water.
2. Grind all ingredients together in a grinder to a coarse paste. Add water as required.
3. Yummy Chutney is ready. Serve with Paratha, Thepla, Roti, Dosa, Ghavan or practically anything.
4. Left over Chutney can be stored in the Freezer for 7-8 days.
Note
1. You can add only coconut or only Roasted Chana. Adjust the quantity accordingly.
2. Alternatively, you can add raw or roasted Peanuts. The taste is different yet yummy when you add Peanuts.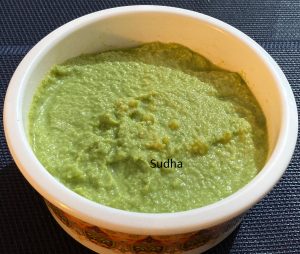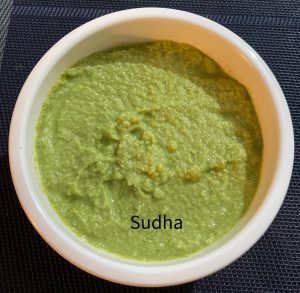 ==================================================================================
कच्च्या करवंदाची चटणी – Raw Carissa Carandas / Bengal Current / Karonda Chutney
ताज्या चटण्या करताना आंबटपणासाठी थोडी चिंच / कैरी / दही / आमचूर असे जिन्नस अगदी थोड्या प्रमाणात घातले जातात. पण उन्हाळ्यात मिळणाऱ्या कच्च्या करवंदाच्या चटणीत मात्र करवंद हा एक मुख्य जिन्नस असतो. ह्या चटणीत मी ओला नारळ आणि डाळं घालते. त्यामुळे चटणीचे टेक्सचर छान येतं. ही चटणी जरा आंबटच असते. तुम्हाला कमी आंबट हवी असेल तर करवंद कमी घाला.
साहित्य (१ कप = २५० मिली)
कच्ची करवंद अर्धा कप
ताजा खवलेला नारळ अर्धा कप
डाळं अर्धा कप
हिरव्या मिरच्या ३–४
चिरलेली कोथिंबीर २–३ टेबलस्पून
साखर अर्धा – एक टीस्पून
मीठ चवीनुसार
कृती
१. करवंद कोमट पाण्याने धुवून घ्या.
२. सर्व साहित्य मिक्सरमध्ये घालून थोडं पाणी घालून किंचित जाडसर वाटून घ्या.
३. करवंदाची चविष्ट चटणी तयार आहे. पराठे, ठेपले, घावन, पोळी, डोसे किंवा कशाही सोबत खायला द्या.
४. उरलेली चटणी फ्रिझरमध्ये ठेऊन ७–८ दिवस चांगली राहते.
टीप
१. ह्या चटणीत तुम्ही फक्त नारळ किंवा फक्त डाळं घालू शकता. त्यानुसार जिन्नसाचे प्रमाण घ्या.
२. ह्यात कच्चे / भाजलेले शेंगदाणे सुद्धा छान लागतात. चटणीची चव थोडी बदलते.