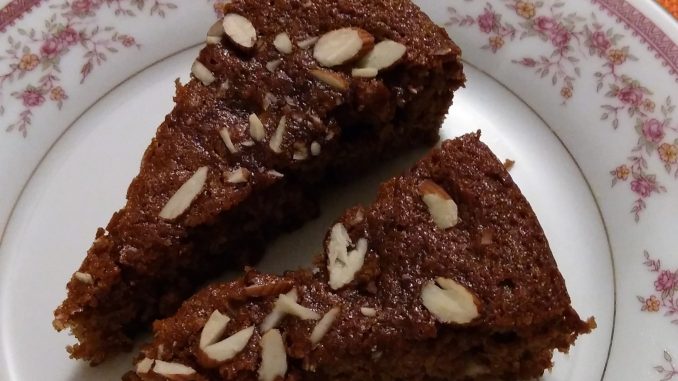 Raisins Almond Cake (Eggless)
I've been baking cake with Dates. Wanted to try something different. So I created this cake recipe that uses Raisins. This cake turned out to be soft, fluffy and very delicious; also the texture and colour were perfect. It's an easy recipe.
Ingredients
Maida (All Purpose Flour) 1.5 cup
Raisins (Khishmish) 1 cup
Milk ¼ cup (approx)
Sugar ¾ cup (I used Demerara sugar to get nice dark colour of cake; you can use normal granulated sugar)
Butter / Oil ½ cup
Baking soda 1.5 teaspoon
Almonds 20-25
Cinnamon Powder ¼ teaspoon
Salt a pinch
Instructions
1. Wash Raisins. Put them in a bowl and Pour in boiling water and soak for 30 minutes.
2. Sieve Flour, Baking soda and Salt together 2-3 times
3. Boil Almonds in water for 3-4 minutes and allow to cool. Peel almonds and cut them in thin slices OR make thin slices of raw almonds without boiling and peeling.
4. Drain Raisins. Grind Raisins and sugar together in a smooth paste
5. Transfer the contents into a big bowl
6. Add Butter / Oil; mix well
7. Preheat oven on 200 degrees; Grease the cake tin
8. Add 2 spoons Flour at a time and mix. Add little milk to make the mixture of right consistency. If raisins sugar paste is not very thick, you will need very little milk. (Cake mixture consistency)
9. After all Flour is added, add almond slices; leaving aside a few slices. Add Cinnamon powder
10. Transfer the batter to greased cake tin, spread the remaining almond slices on top and bake in oven for 30-35 min.
11. If the knife comes out clean; cake is baked. Leave it to cool for 10-15 min. Cut pieces of desired shape
12. Serve this rich, creamy and delicious Raisins Almond cake.
Tips for Making this a Vegan Recipe
1. Use Oil instead of Butter
2. Use Almond Milk instead of Dairy Milk