Navalkol Leaves Soup (German Turnip Greens Soup)
Navalkol is Alkol or Knolkol or Gathgobi or Kohlrabi or German Turnip. You get it at a vendor who sells green vegetables. Also you can find this at Vasai wala / wali who get vegetables from Vasai to sell. We generally make subji using Navalkol bulb but throw away the leaves. These leaves are very nutritious. So I decided to make soup using these leaves. I created my own recipe for this soup. It turned out to be very thick, healthy and delicious soup. Try this out.
Ingredients (serves 4 people)
Navalkol Leaves (German Turnip Greens) washed and chopped around 1.5 cups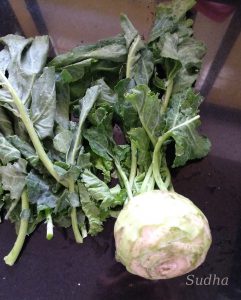 Tomatoes 2 small
Chopped coriander 1 teaspoon
Sweet corn kernel ½ cup
Roasted Groundnut Powder 1 tablespoon
Black salt to taste
Garlic 3-4 cloves
Ghee (Clarified Butter) ½ teaspoon
Black Pepper Powder ¼ teaspoon (adjust as per taste)
Aamchoor (Mango Powder) ¼ teaspoon
Instructions
Do not use Navalkol stem if is it not tender; Use only leaves.
1. Cook Navalkol leaves in microwave for 4 minutes on high. If you don't have microwave, sauté on low flame using ½ teaspoon oil / ghee for 5-7 minutes (you will require ½ teaspoon more ghee in this case). Navalkol leaves do not release water like Spinach (Palak). They become dry.
2. Boil tomatoes in water for 2 minutes. Then dip in normal water. On cooling, remove tomato peel and cut into 4 pieces.
3. Boil sweet corn either in microwave (for 4 minutes) or using any other method.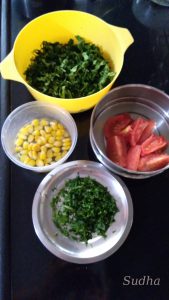 4. Blend Navalkol leaves, tomatoes, 1 teaspoon of sweet corn, coriander leaves together in a smooth paste. Add water if required.
5. Heat ghee in a deep pan on low flame. Add garlic pieces and sauté till light brown.
6. Add blended mixture to the pan.
7. Add black salt, black pepper powder, aamchoor. Add water to adjust consistency. Boil the mixture for 10 minutes.
8. Add roasted groundnut powder and mix well.
9. Healthy and Tasty soup is ready. Serve hot after adding sweet corn kernels to soup bowl.
Note
You can add a few Spinach (Palak) leaves to this soup. Cook Spinach leaves along with Navalkol leaves in step 1.