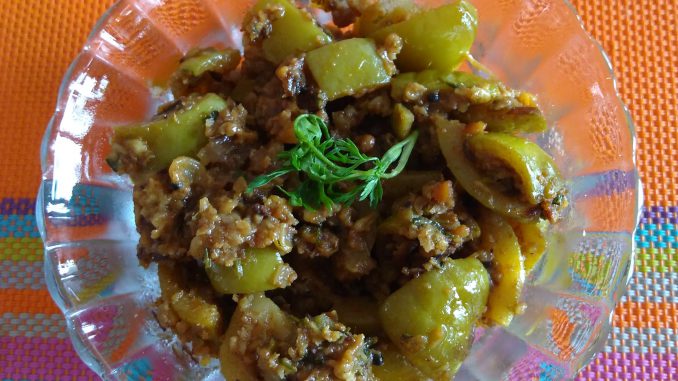 Tinda (ढेमसं) Masala Dry Subji (Indian Round Gourd / Apple Gourd Dry Subji)
I'd never tasted Tinda till recently as this was not cooked in my mother's house. It's only when I read Stuffed Tinda Recipe from my friend Mamta Joshi on a food group, I decided to try it out. It came out really well. So as always, I changed the recipe a bit and made Tinda Masala Dry Subji. It's an easy recipe and makes very tasty subji. Now this has become a part of My Family Recipes.
In Marathi Tinda is called by a funny name – Dhemase (ढेमसं).
Ingredients
Tinda ¼ kg
Onion 2 medium finely chopped
Roasted Peanut Powder 2 tablespoon
Fresh Scraped coconut 1 tablespoon
Red Chilly Powder ½ teaspoon
Garam Masala ½ teaspoon
Coriander Powder ½ teaspoon
Chopped Coriander 1 tablespoon
Sugar ½ to 1 teaspoon
Aamchoor (Mango Powder) ½ teaspoon
Salt to taste
For Tempering
Oil 1 tablespoon
Mustard seeds ½ teaspoon
Turmeric Powder ½ teaspoon
Asafoetida ½ teaspoon
Instructions
1. Wash and chop Tinda into medium size pieces
2. In a pan, heat oil.
3. Add Mustard seeds; wait for splutter
4. Add Turmeric Powder, Asafoetida
5. Add chopped Onion; sauté on low flame till translucent
6. Add coconut; sauté on low flame for 2 minutes
7. Add Tinda, sauté on low flame for 2 minutes
8. Cook covered till Tinda is soft; Sprinkle little water if required
9. Add Chilly Powder, Garam Masala, Aaamchoor, Coriander Powder, Sugar, Salt and Mix
10. Add Roasted Peanut Powder; chopped coriander and Mix well
11. Delicious Tinda Masala is ready. Serve hot with Roti (Indian Bread)
Note:
Tender Tinda do not have any seeds or have soft seeds. If there are hard seeds in Tinda, remove them while cutting.