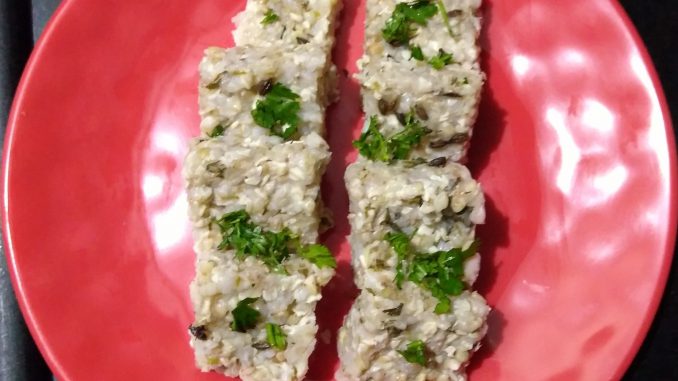 Kuttu Dhokla (Buckwheat Savory Cake – Gluten free)
Kuttu / Buckwheat is rich in Protein and Vitamins. It has no Gluten. Kuttu is not very popular in Maharashtra. My Gujarati friend shared this recipe, I found it interesting and decided to try it. Kuttu is available in grocery stores in the form of broken grains (it's called Kuttu Daro in Gujarati). This recipe used these broken grains without grinding and there is no baking soda / Fruit salt added. Hence the texture of Dhokla is grainy. It's soft Dhokla but not spongy. It's very tasty.
Ingredients
Kuttu Daro / Broken Buckwheat 1.25 cup
Sour Curd ½ cup
Green Chilly, Ginger Paste 1 teaspoon
Chopped Coriander 2 teaspoon
Ghee (Clarified Butter) 1 teaspoon
Cumin Seeds ½ teaspoon
Salt / Sea Salt to taste
Instructions
1. Wash Kuttu 2-3 times. Drain water
2. Add Curd, Chilly Ginger paste, salt and 1 teaspoon of chopped of coriander to Kuttu and mix well. Make a Thick batter like Idli batter of dropping consistency.
3. Leave it covered for 3 hours.
4. Heat water in a steamer.
5. Grease a flat plate. Pour batter and level it.
6. Steam it for 15-20 minutes. Check by piercing a knife. Knife should come out clean.
7. Leave the plate to come to room temperature.
8. Heat Ghee in a small Ladle. Add Cumin seeds; wait for splutter.
9. Spread ghee on Dhokla.
10. Cut Dhokla in pieces of desired shapes.
11. Garnish with Chopped coriander. Serve with choice of chutney / tomato sauce. Dhokla tastes very good without any accompaniment also.