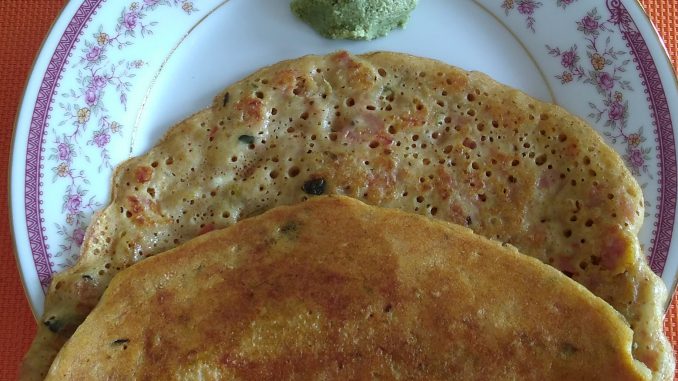 Masala Aamboli (Spicy Pan Cake)
Masala Aamboli is a specialty from Southern Konkan / Coastal India. Aamboli is like an Uttapam (South Indian Pan Cake). Instead of adding raw Onions and Tomatoes, a spicy subji is cooked and added to Aamboli batter. Hence it is tastier than Masala Uttapam.
Ingredients
Urad Dal (Split Black Gram ) 1 cup
Raw Rice 3 cups
Fenugreek (Methi) seeds 2 tablespoons
Poha (Flattened rice) 2 tablespoons
Salt to taste
Oil / Ghee / Clarified Butter for roasting Aamboli
For Masala / Spicy Mixture
Onions 4 medium
Tomatoes 4 medium
Fresh Scraped Coconut 2 tablespoon
Red Chilly Powder ¾ to 1 teaspoon (adjust as per taste)
Garam Masala ½ to ¾ teaspoon
Aamchoor (Mango Powder) ½ teaspoon
Chopped coriander 1 teaspoon
Salt to taste
Oil 1 teaspoon
Cumin Seeds ¼ teaspoon
Turmeric Powder ½ teaspoon
Asafoetida (Hing) a pinch
Curry Leaves 7-8 chopped in fine pieces
Instructions
Prepare "Aamboli Batter"
1. Wash split black gram (urad dal) and rice separately.
2. Add Fenugreek (methi) seeds and Poha (flattened rice) to rice.
3. Soak both split black gram (urad dal) and rice + fenugreek (methi) seeds + poha separately in water for 8 hours.
4. Grind separately to form coarse batter – consistency of dosa /pan cake batter
5. Mix both batter and keep covered for 8 hours.
6. Add salt and mix well, the batter consistency should be like pan cake batter.
Prepare "Masala / Spicy Mixture"
1. In a pan, heat oil. Add cumin seeds; wait till splutter; add turmeric powder, asafoetida and curry leaves.
2. Add chopped onions and a pinch of salt; sauté on low flame for 3-4 minutes
3. Add scraped coconut; sauté on low flame till onions are translucent
4. Add tomatoes. Mix. Cook covered on low flame till tomatoes are soft.
5. Add chilly powder, garam masala, mango powder, Salt, chopped coriander and mix.
6. This Masala should be spicy as we are going to add it to Aamboli batter. Adjust spices according to your taste.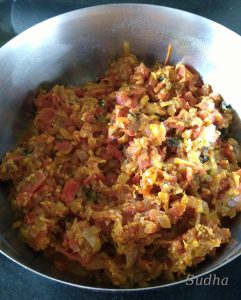 Prepare "Aamboli"
1. Take out 5-6 ladle full of Aamboli batter and Add the Masala / Spicy Mixture to it. The amount of Masala to be added depends on your taste. More the Masala; Ammboli will be more tasty.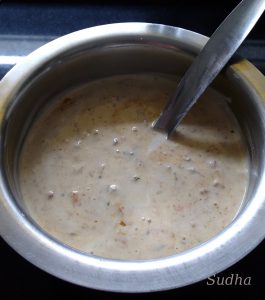 2. Heat a flat non stick griddle on low flame.
3. Sprinkle water on the heated griddle, wipe with cotton cloth before spreading the batter.
4. pour 2 ladle of batter on griddle; spread the batter (Aamboli) like a thick pan cake (uttapam)
5. Cover the Aamboli with a lid.
6. Sprinkle a few drops of oil / ghee on Aamboli
7. Flip Aamboli and let it cook on the other side. Cooked Aamboli will be reddish brown in colour.
8. Serve hot Masala Aamboli with your choice of chutney or tomato sauce.