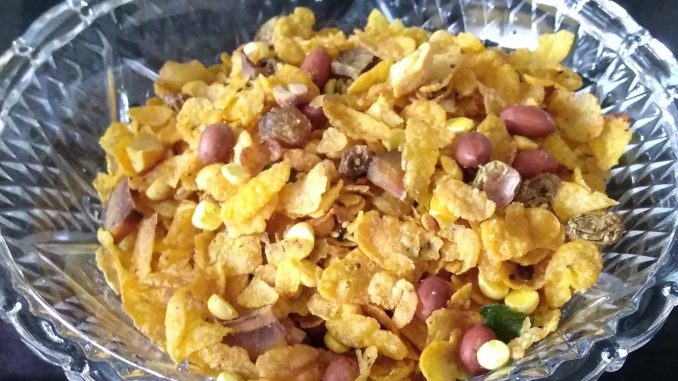 Corn Flakes Chivada (No Frying / No Roasting)
This is quick and tasty Chivada made from ready to eat Corn Flakes (the one that you eat for breakfast). Do not buy corn poha (Flattened Corn) that you get in grocery shop. That needs frying before you can use it. In this recipe, there is no frying – it requires very less oil. It does not require any roasting either – so quick and easy to make. It's very tasty. You can make this using oil or Ghee (Clarified Butter). The one with Ghee is more delicious. Try it.
Ingredients
Ready to eat corn flakes 500 gram (Buy plain corn flakes without any coating / flavour)
Raw Peanuts 1 cup
Dalia / Roasted Chana Daal (Roasted Split Bengal Gram) ¾ cup
Dried Coconut (Khobra) 1 cup
Seasame Seeds 2 tablespoons
Chilly Powder 1 teaspoon
Powdered Sugar 2 tablespoons
Oil/Ghee (Clarified Butter) 1 cup
Mustard Seeds 1 teaspoon
Turmeric Powder ½ teaspoon
Asafoetida (Hing) ½ teaspoon
Cashew Nut ½ cup
Raisins (Khismish) ¼ cup
Salt to taste
Instructions
1. Cut Khopra in thin slices about 1 inch long
2. Make pieces of cashew nuts
3. In a large pan, heat oil on medium flame.
4. Add mustard seeds, wait till sputters
5. Add peanuts, sauté till reddish brown.
6. Add khobra slices, sauté till dark brown.
7. Add chopped cashew nuts; sauté till light brown
8. Add raisins, sauté
9. Add roasted dalia, white sesame seeds, Asafoetida, Turmeric Powder, Salt.
10. Mix well.
11. Turn off the flame.
12. Add corn flakes, mix well.
13. Add powdered sugar, mix well.
14. Cool to room temperature. And store in air tight container. This will last for 15 days without refrigeration.
Note
1. You can add Kurmura (Puffed Rice) also to this. You will need about 3 cups of kurmura. Dry roast Kurmura till crispy. Add to the mixture along with corn flakes.
2. The sequence of adding ingredients is very important.