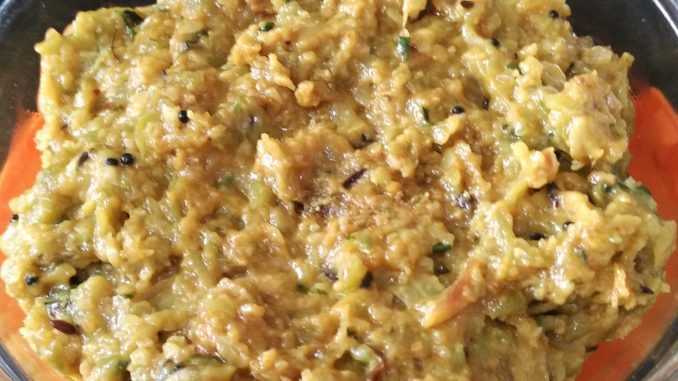 Ghosale Bhaaji (Sponge Gourd Subji with Peanuts)
Marathi – Ghosale
Kannada – Tuppahirekai
Hindi – Ghiatorui/Gilki
English – Sponge Gourd
Ghosale Bhaaji with Chana Dal (Bengal Gram) is very common. Try this different recipe that adds crushed roasted peanuts to the subji. It makes very tasty subji.
Ingredients
Ghosale (Sponge Gourd) 4-5 medium size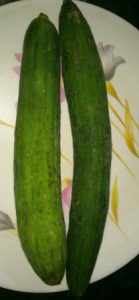 Onion 1 medium size finely chopped
Ginger Garlic Paste ½ teaspoon
Red Chilly Powder ½ teaspoon
Sugar ½ teaspoon
Crushed Roasted Peanuts 2 tablespoons
Lemon juice ½ teaspoon
Fresh Scraped Coconut 2 teaspoon (optional)
Chopped coriander 1 teaspoon
Salt to taste
Oil 2 teaspoon
Mustard Seeds ¼ teaspoon
Cumin Seeds ¼ teaspoon
Asafoetida a pinch
Turmeric Powder ¼ teaspoon
Instructions
1. Wash, Peel and grate Ghosale. Do not use the fine grater; use a medium size or big size grater.
2. In a pan, heat oil on medium flame.
3. Add mustard seeds, wait for splutter; add Cumin seeds, wait for splutter; add Turmeric Powder and Asafoetida.
4. Add finely chopped Onion and sauté till onion is light brown.
5. Add Ginger garlic paste; sauté for 2-3 minutes.
6. Add grated Ghosale, mix and cook covered till Ghosale is soft. It will release water; so no need to add water while cooking.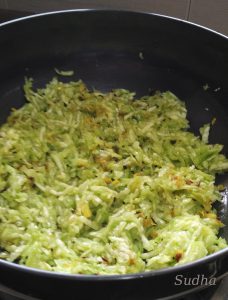 7. Add Chilly Powder, salt, lemon juice and sugar. Mix well.
8. Add crushed peanuts, mix well.
9. Add fresh scraped coconut and coriander; mix well. Subji should not be too dry. If it is, sprinkle some water.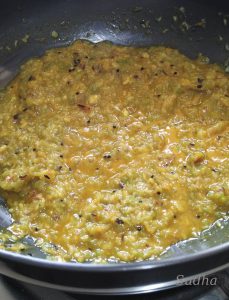 10. Tasty subji is ready. Serve hot. Tastes awesome with Chapati or Bhakri (Indian Bread).