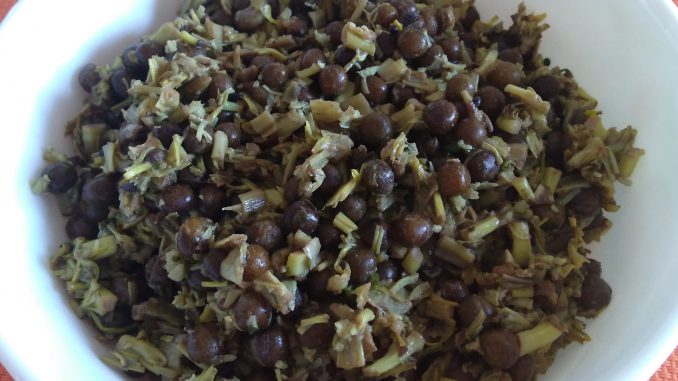 Kelfulachi Bhaaji – केळफुलाची भाजी (Banana Flower / Plantain Flower Subji)
Kelful / Banana Flower is very nutritious. Different recipes are popular in different regions of India. Cleaning Banana Flower is a lengthy process. But considering its nutritious values, it is worth taking the efforts and make Banana Flower recipes. This recipe is from Goa / Konkan. It's an easy one and requires only a few ingredients that are generally available in Indian kitchen. It does not use any spices except Green Chillies. Try this out. It's tasty.
Ingredients
Kelful (Banana flower) 1
Kale Vatane (Black Peas) ½ cup
Fresh Scraped coconut 2 tablespoon
Green Chilly Paste 1 teaspoon
Chopped Coriander 1 tablespoon
Sugar 1 – 1.5 teaspoon (Adjust as per taste)
Salt to taste
Buttermilk 4 tablespoon / Tamarind pulp 1 tablespoon to soak cleaned florets
For Tempering
Oil 2 teaspoon
Mustard seeds ½ teaspoon
Cumin Seeds ½ teaspoon
Turmeric Powder ½ teaspoon
Asafoetida ¼ teaspoon
Instructions
1. Wash and soak Black peas in water for 6-7 hours.
2. Clean Banana Flower.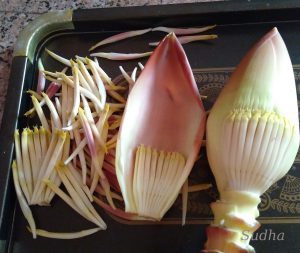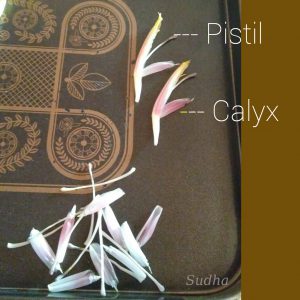 a. Banana Flower has Purple coloured Bracts. When you open a Bract, you will see a bunch of Florets. Take out these florets. Purple Bracts are to be discarded.
b. You need to remove 2 parts from each floret viz. Calyx and Pistil. Once you open a floret, you will see a transparent plastic textured leaf like part towards the bottom of the floret. This is Calyx. Take this out. This is to be discarded.
c. You will see multiple thin strings in the floret. One of them is stiff and the top end is dark. This is Pistil. Take this out. This is to be discarded.
d. Clean all the florets this way.
e. As you keep peeling Purple Bracts, florets will be shorter.
f. Florets in the inner side of the flower are very small and very tender. You will not be able to see Calyx and Pistil in these florets. So don't discard anything from these florets.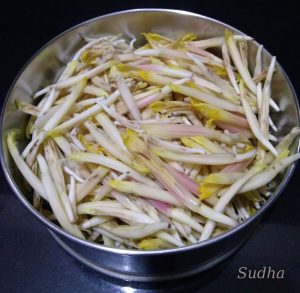 3. Wash cleaned florets and chop them fine. Soak them in water after adding buttermilk / Tamarind pulp to the water. Add enough water to cover all the florets.
4. Soak florets in water for at least 30 minutes.
5. Pressure cook Black Peas till tender. Black Peas take longer to cook than White Peas.
6. In a pan, heat oil.
7. Add Mustard seeds. Wait for splutter. Add Cumin Seeds. Wait for splutter.
8. Add Turmeric powder and Asafoetida.
9. Add Chilly Paste.
10. Drain water from Banana florets and add them to pan.
11. Sauté and cook covered for 4-5 minutes Stirring in between after 2 minutes.
12. Add little water and cook covered till florets are cooked.
13. Add cooked black peas.
14. Add Salt, sugar, scraped coconut, coriander and Mix. Add water if required. This is a dry subji. Does not have gravy. Cook for 2-3 minutes.
15. Banana Flower Subji is ready. Serve hot with Roti (Indian Bread).