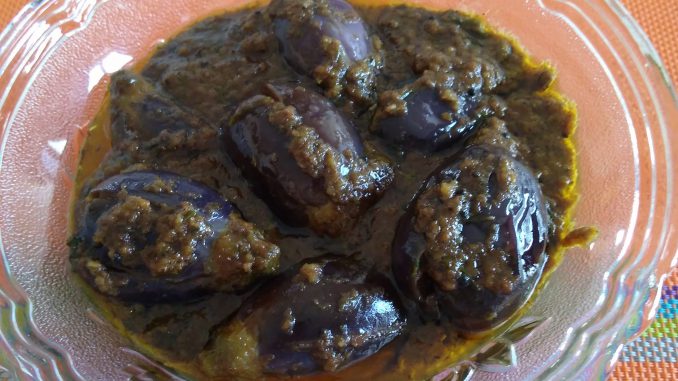 Bharali Vangi (Stuffed Brinjal)
This is one of the famous preparation from Maharashtra. It is made in different ways in different parts of Maharashtra. This one is Brahmin style recipe from Konkan region. It does not use onion and garlic. There are 2-3 types of small brinjals available in the market. 1) Dark purple brinjals 2) light purple brinjals with thin white lines 3) light green. You can use either of these varieties for this subji. But the second one (light purple with thin white lines) taste better when cooked this way.
Ingredients
Brinjal (Vangi) small 10 Nos.
White Seasame Seeds ½ cup
Dried Coconut Grated ½ cup
Tamarind (Chinch) pulp 2 tablespoons
Crushed Jaggery 2 tablespoons
Red Chilli Powder 1 teaspoon
Goda Masala 2 teaspoons
Fresh Scraped Coconut 2 tablespoons
Chopped Coriander Leaves 2 tablespoons
Oil 1 teaspoon
Mustard Seeds ¼ teaspoon
Turmeric Powder ½ teaspoon
Asafoetida (Hing) ¼ teaspoon
salt to taste
Instructions
1. Wash brinjals. Remove the green part of the stem attached to brinjal fruit, but leave ½ inch of stem along with the fruit. Make two perpendicular slits about ¾ th deep on the other side of the stem. Retaining some part of stem prevents brinjals from breaking to pieces while cooking.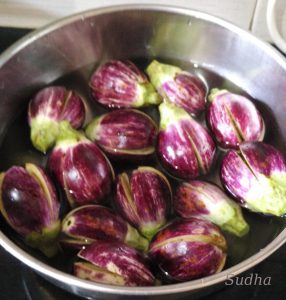 2. Roast white sesame seeds till light brown.
3. Roast grated dried coconut till light brown.
4. Grind roasted dried coconut and sesame seeds separately into a coarse powder using a grinder.
5. Add jaggery, Red chilli powder, Goda masala, fresh scraped coconut, chopped coriander and salt to tamarind pulp.
6. Add dried coconut and sesame seeds powder to form a uniform coarse mixture, add some water if required. Consistency of this mixture should be like thick gravy.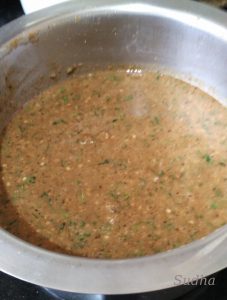 7. Stuff about a teaspoon of solid part of the mixture into each slit of brinjal. Brinjals are ready for cooking now.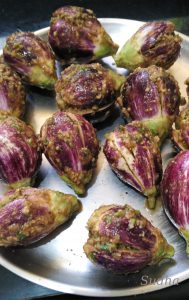 8. Heat oil in a pan on medium flame.
9. Add mustard seeds, wait for sputte.
10. Add turmeric powder and asafoetida.
11. Add stuffed brinjals into the pan and cover the pan. Cook on low flame.
12. After 2 to 3 minutes turnover each brinjal and cover the pan again.
13. Brinjals will change colour to dark purple. Add the remaining mixture (prepared in step 6).
14. Add enough water to cover the brinjals.
15. Cook covered till brinjals are soft and gravy is thick.
16. Serve this delicious subji hot with Roti / Bhakari (Indian Bread).
Note:
1. If you want, you can add 4-5 small onions in this subji. Peel onions, make 2 perpendicular slits on each onion. Stuff some spice mixture in each onion and add them along with brinjals in step 11 above.
2. Colour of the subji will depend on the colour of Tamarind pulp. If Tamarind pulp is brown, the subji will be dark brown. If Tamarind Pulp is dark, subji will be blackish brown.