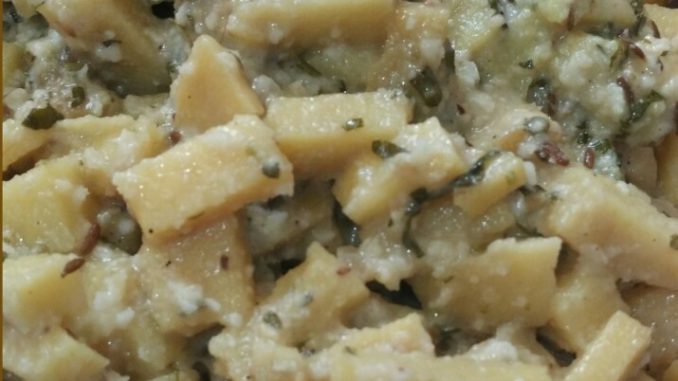 Suran Bhaaji (Yam Subji)
Suran (Yam) is very nutritious and tasty as well. But not many people like Suran. Try out this easy and tasty recipe.
Ingredients
Suran / Yam ½ kilogram
Buttermilk 3 tablespoons or kokum 4-5 or tamarind pulp 1 teaspoon
Roasted peanut powder 1 tablespoon
Desi ghee (Clarified Butter) 1 teaspoon
Cumin Seeds ½ teaspoon
Asafoetida (Hing) a pinch
Fresh scraped coconut 1 teaspoon
Chopped coriander 1 teaspoon
Green Chilly paste ½ teaspoon
Sugar ½ teaspoon
Salt to taste
Instructions
1. wash Suran properly and cut into small pieces of ½ inch length and 1 cm width
2. If you are not going to cook it immediately, then keep the pieces dipped in water; else they will turn black/brown in colour
3. In a pan, heat ghee (clarified butter). Add cumin seeds, wait till splutter, add asafoetida (hing) and green chilly paste
4. Add Suran pieces (don't add water at this stage)
5. cover the pan and let it cook for 3-4 minutes; keep stirring it after 1-2 minutes
6. Add buttermilk. If you are not going to use buttermilk, then add water and kokum (make small pieces of kokum) / tamarind.
7. Add peanut powder.
8. Cook covered till Suran is soft. Add water is required
9. Add sugar, salt, scraped coconut and chopped coriander. Bring it to boil.
10. Bhaaji should not be watery; it should have thick gravy.
11. Serve with roti. Or it tastes nice without any accompaniments.
12. It can be eaten on fasting day. Some people don't eat Hing on fasting day. Those can drop Hing from this recipe.