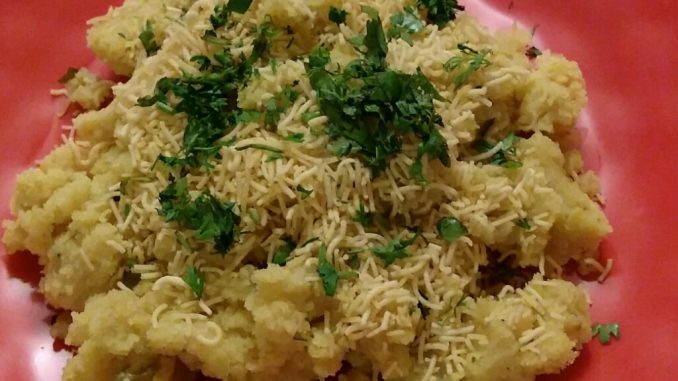 Surati Sev Khamani
When my in-laws were in Surat, we used to go there very often. My Father-in-law used to get Sev Khamani from a specific shop. That was so yummy. I still remember that taste. Sev Khamani is different than Aamiri khaman. Aamiri Khaman is dry like Maharashtrian Vatli Daal. Sev Khamani is Moist. I managed to get an authentic recipe from a friend. It came out very well; very close to what I use to have in Surat.
Ingredients (1 cup = 250 ml)

Tuvar Daal (Split pigeon peas) 1 cup
Chana Daal (Split Chickpeas) ½ cup
Rice ¼ cup
Buttermilk or Curd 2 tablespoon
Chili Ginger Garlic paste 1 teaspoon
Cumin Seeds Powder ½ teaspoon
Coriander Seeds Powder ½ teaspoon
Garam Masala ½ teaspoon
Turmeric ½ teaspoon (or as required to get yellow colour like Khaman dhkola)
Salt to taste
Sugar to taste
Oil 2 tablespoon
For Tempering
Oil 2 tablespoon (or more if you like)
Mustard seeds ½ teaspoon
Asafoetida (Hing) ¼ teaspoon
Curry leaves 7-8
Green Chilies 3-4
For Garnish
Chopped coriander
Nylon Sev
Instructions
1. Wash and soak Tuvar Daal, Chana Daal and Rice separately for 6-8 hours.
2. Drain and grind separately into coarse paste. Do not add water while grinding. Note that both Tuvar daal & chana daal are soft and hence grind quickly so use pulse mode; else you will land up grinding them fine.
3. Mix together and add curd/ buttermilk. Consistency should be like Idli batter. Keep covered for 6-8 hours to ferment.
4. Add chilly+ginger+garlic paste, Cumin powder, Coriander Powder, Garam Masala, Turmeric, Salt, Sugar and oil. Mix.
5. Heat water in steamer.
6. Transfer the mixture to greased plate and steam for 25-30 minutes till Khaman in cooked.
7. Leave Khaman to cool.
8. Crumble Khaman with your fingers. Make sure there are no lumps. Add water to make a moist mixture. Mixture should not be dry.
9. In a ladle, heat oil. Add mustard seeds, wait till crackles. Add Asafoetida (hing), curry leaves and green chilly pieces.
10. Pour onto Khaman and mix.
11. Steam the mixture for 10 minutes.
12. Serve this yummy Sev Khamani hot with chopped coriander and nylon Sev.
Note: Traditional recipe use much more oil for Tadka. But I could not dare to use so much oil. Of course, Sev Khamani will be more yummy if you add more oil. So decide the amount that suits your palate.