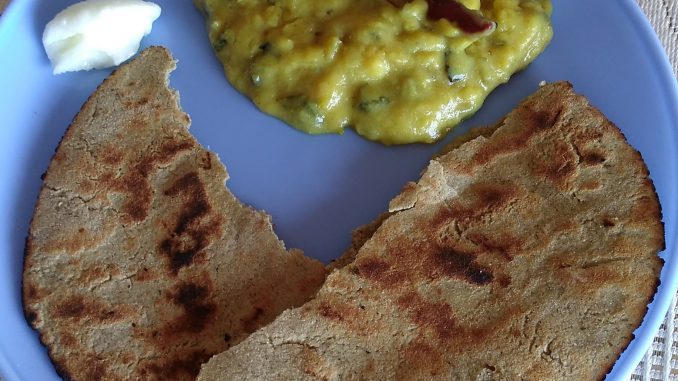 Kanda Paatiche Pithale / Spring Onion Pithale and Bhakari
Pithale is Maharashtrian specialty. Besan (Gram Flour) is the main ingredient. One can add Onions, Coriander, Drum Sticks or any combination of these to Pithale. It's very easy to make and it's very yummy. For best taste, cook this in iron wok / kadai.
Ingredients
Besan (Gram Flor) 1 cup
Finely chopped spring onion ¾ cup (alternatively you can use normal onion ½ cup)
Slit Dried Red Chillies 5-6
Kokum 4
Chopped Coriander 1 tablespoon
Oil 1 teaspoon
Mustard Seeds (Mohri) ¼ teaspoon
Cumin Seeds (Jeera) ¼ teaspoon
Turmeric Powder ¼ teaspoon
Asafoetida (Hing) ¼ teaspoon
Salt to taste
Instructions
1. Add salt, kokum to besan, make thin consistency batter using water.
2. Heat oil in a thick bottom pan / Wok / Kadai, on medium flame.
3. Add mustard seeds, wait till sputters; add cumin seeds, wait till splutters.
4. Add turmeric powder, asafoetida (hing) and slit dried red chillies.
5. Add chopped spring onions / onions. Sauté till light brown.
6. Pour the batter prepared in step 1 into the pan.
7. Cook on low flame stirring all the time, till mixture thickens (about 2 minutes).
8. Add 1/2 a cup water, keep stirring.
9. Repeat steps 7 and 8, 3 to 4 times. Stop these when the mixture will not thicken further.
10. Add chopped coriander.
11. Cook covered for 10 minutes, stirring every 2-3 minutes.
12. Pithale will have a glazed look when cooked.
Serve hot with Bhakari and home made butter. It's yummicious.
I used Jowar (Sorghum) and Bajara (Peral Millet) Flour to make Bhakari and roasted Bhakari on earthen griddle.