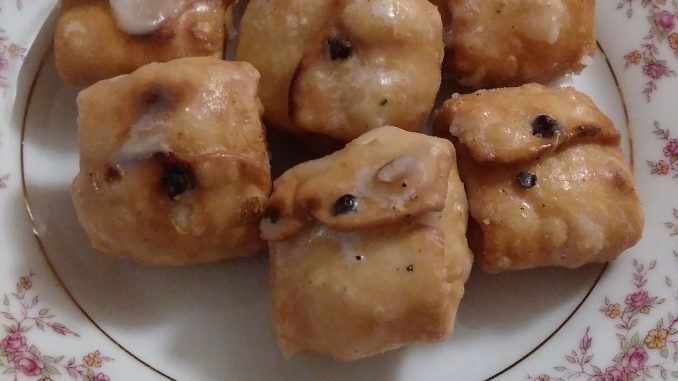 Lavang Latika
This is a famous Bengali sweet. These are sweet Mawa / Khoya (Milk Solids) filled Maida (All purpose Flour) packets dipped in sugar syrup. These are very delicious. It's not difficult to make it. Try it out.
Ingredients (for 20-22 Lavang Latika)
Maida (All Purpose Flour) 2 cups
Ghee (Clarified Butter) for dough ¼ cup
Salt a pinch (optional)
Mawa/ Khoya / Milk Solids 200 gms
Powdered sugar 2 tablespoon
Cardamom (Eliachy) powder ¼ teaspoon
Sugar 1 cup
Almond Powder 1 tablespoon
Cloves 20-22
Ghee (Clarified Butter) for deep frying
Instructions
1. Melt ghee for dough and add to Maida. Add salt if you like.
2. Using water bind dough like Puri dough – not too soft; not too stiff. Let it rest for 30 minutes.
3. In a non stick pan, sauté Mawa on low flame till it turns light brown.
4. Take it out in a plate and allow it to cool.
5. Add powdered sugar, almond powder, cardamom powder and mix together. Filling is ready.
6. Knead the dough and make small lemon size balls.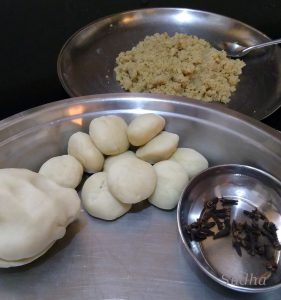 7. Roll dough ball into a round shaped puri (little thicker than puri).
8. Place a spoonful of filling in the centre of the puri.
9. Fold the puri from both sides such that some portion of the first side overlaps with the second side. Apply little water on the edge of second side so that it will stick to the first side when you fold.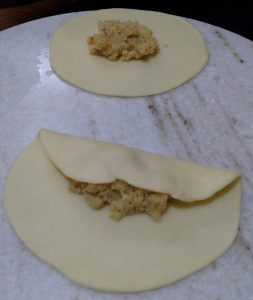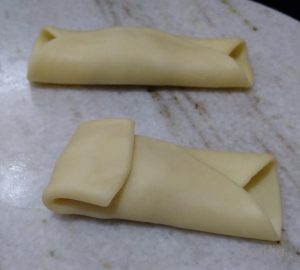 10. Fold the other two sides after applying little water on the edges. These sides also should overlap each other. The shape will be a square.
11. Pierce a clove in the centre to seal Lavang Latika.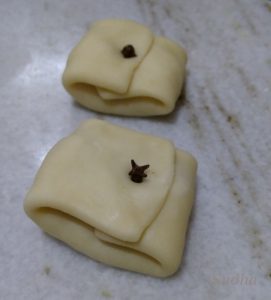 12. Prepare all Lavang Latika this way
13. In a wok, heat ghee.
14. Deep fry Lavang Latika on low flame till light brown on all sides.
15. Take them out on a kitchen towel.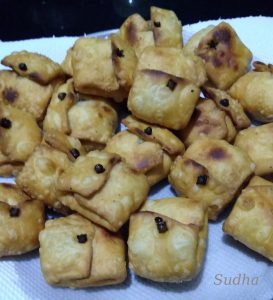 16. Now for syrup – In a pan, add ½ cup water and 1 cup sugar.
17. Heat on medium flame to make sugar syrup. Keep stirring regularly.
18. Make Syrup thicker than one string. Syrup should be sticky. Add Cardamom powder. Switch off the gas and wait for 2 minutes.
19. Dip Lavang Latika in sugar syrup in batches of 4-5 for a minute and then take them out in a plate.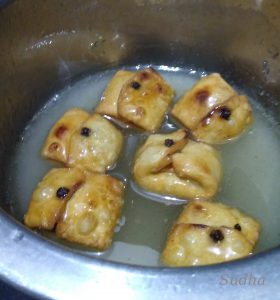 20. Allow it to cool. Enjoy this delicious sweet.
You can store Lavang Latika at room temperature for 2-3 days.