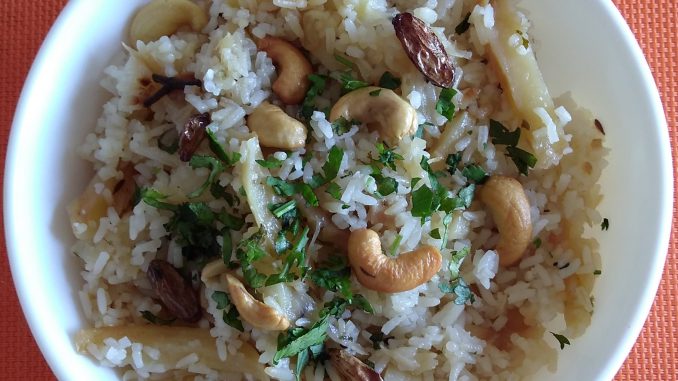 Potato Rice
This is rice Pulav with Potato chips (French Fries) and fried onions. Making French Fries is little time consuming; otherwise it's an easy recipe. It tastes awesome.
Ingredients
Raw Rice 1 cup
Medium size Potatoes 5
Medium size Onions 2
Coriander leaves Chopped 1 teaspoon
Cashew nuts pieces 2 teaspoon
Raisins (Khishmish) 1 teaspoon
Curry leaves 1 teaspoon
Black pepper 10 peppercorns
Cinnamon ½ inch
Cloves 5-6
Green Chilly Paste 1 teaspoon
Sugar ¾ teaspoon
Lemon Juice 1 teaspoon
Desi Ghee / Clarified Butter 1 teaspoon
Cumin Seeds (Jeera) ½ teaspoon
Asafoetida (Hing) a pinch
Salt to taste
Oil to deep fry french fries
Instructions
1. Wash rice and keep aside for 30 minutes.
2. Peel and cut potatoes in French fries shape
3. Chop onion into thin slices
4. Heat oil and deep fry French fries and spread them on a kitchen towel; sprinkle little salt
5. Fry onion slices till light brown
6. Fry cashew nuts, raisins
7. In a pan, heat desi ghee
8. Add cumin seeds and wait till splutter
9. Add Asafoetida
10. Add black pepper, cinnamon, cloves and curry leaves
11. Add chilly paste
12. Add washed rice and sauté till rice is dry
13. Add twice the amount of boiling water (or as much as required to cook rice) to rice.
14. At this stage, I transferred the rice to rice cooker and cooked it; if you don't want to use rice cooker, cook covered in the same pan till rice is almost cooked
15. Add French Fries, fried onion and cashew nuts, raisins; mix well and cook it for 5 more minutes
16. Garnish with chopped coriander leaves and serve hot with curd or Raita (Curd mixed with Cucumber or Onions). It's yummy.