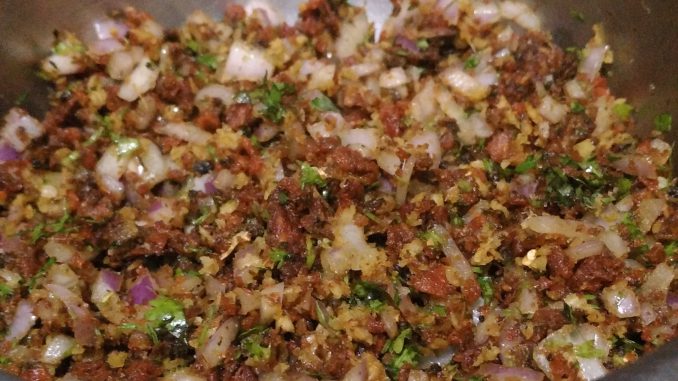 Karlyache Kismoor (कारल्याचं किसमूर) – Crunchy Karela Koshimbir / Salad (Bitter Gourd Crunchy Salad)
This tasty and easy recipe is from Goa. This is used as Koshimbir / Salad. Most of the people who don't like Karela also like this Karela preparation.
Ingredients
Karle (Bitter Gourd/ Karela) Fried chips 1 cup
Medium onion 1
Jaggery crushed ½ teaspoon
Red chilly powder ½ teaspoon
Tamarind (Chinch) dry pulp ½ teaspoon
Fresh Scraped Coconut 2 teaspoons
Chopped Coriander 1 teaspoon
Salt to taste
Instructions
1. You can use crisp Karela/Karle chips that are available in the market or if you want to make them at home, cut Karela in thin slices and deep fry them in oil. While hot, sprinkle some salt.
2. Crush Karela chips (karle) in Khal – Batta / Mortar – Pestle / Khandni – Dasto – to make coarse powder. If you are using a Grinder, use pulse mode to grind Karela Chips into a coarse powder.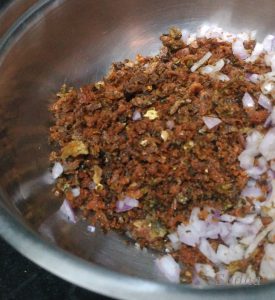 3. Mix the crushed Karle / karela with onion, salt, jaggery, red chilly powder, tamarind (chinch), scraped coconut and finely chopped coriander leaves. Karlyache Kismoor is ready; serve it as a side dish.
It tastes great with roti (Indian Bread) or as it is also.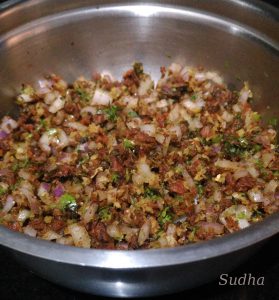 =================================================================================
कारल्याचं किसमूर
कारलं म्हटलं की बरेच जण नाक मुरडतात. पण कारलं आवडीनं खाणारेही काही आहेत – माझ्यासारखे.  कारल्याचं किसमूर ही गोव्याकडची कोशिंबीर (तोंडीलावणं) आहे. ज्यांना कारलं आवडत नाही त्यांना सुद्धा ही कोशिंबीर नक्की आवडेल. वेगळाच आणि अगदी सोपा, झटपट होणारा पदार्थ आहे. जरूर करून बघा.
साहित्य (१ कप = २५० मिली )
कारल्याचे तळलेले काप १ कप
कांदा १ मध्यम बारीक चिरून
चिरलेला गूळ अर्धा टीस्पून
लाल तिखट अर्धा टीस्पून
चिंच अर्धा टीस्पून (सुकीच; पाणी न घालता )
खवलेला नारळ २  टीस्पून
चिरलेली कोथिंबीर १ टीस्पून
मीठ चवीनुसार
कृती
१. कारल्याचे तळलेले काप दुकानात मिळतात ते वापरा किंवा घरी बनवा. मी हॉट चिप्स चे आणते.
२. कारल्याचे काप खलबत्त्यात जाडसर कुटून घ्या. मिक्सर वापरला तर पल्स मोड मध्ये वापरा.
३. एका वाडग्यात कारल्याचे कूट आणि बाकी सर्व साहित्य घालून चांगलं मिक्स करा.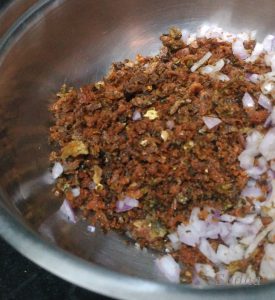 ४. चविष्ट किसमूर तयार आहे. तोंडीलावणं म्हणून सर्व्ह करा. पोळी / भाकरी बरोबर किंवा असंच खायला ही छान लागतं.