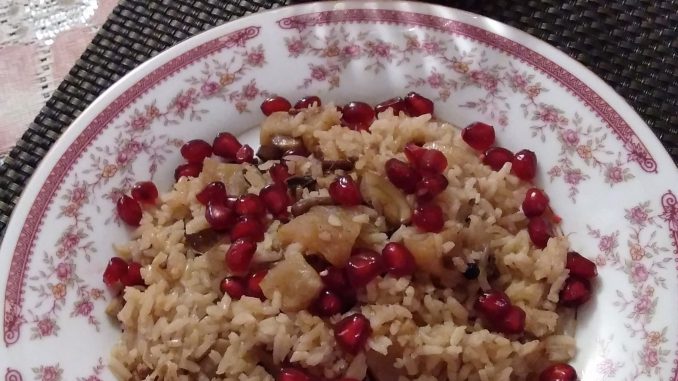 Apple Pulav (Apple Rice)
I'd seen fresh fruits added to Pulav only in Kashmiri Pulav. I tried adding fresh apples to made Apple Pulav. It turned out to be very delicious. Try this out.
Ingredients
Apples Medium size 2
Rice 1 cup
Ghee (Clarified Butter) 1.5 tablespoons
Bay Leaves (Tej Patta) 2
Black Pepper 10
Cinnamon (Dalchini) a small piece
Cardamom (Green Eliachy) 5
Cloves 5
Almonds 10-12
Cashew nuts 10-12
Raisins (Khishmish) 10-12
Fennel Seeds (Saunf) ½ teaspoon
Ginger ½ teaspoon finely cut
Green Chillies 3-4
Chilly Powder ½ teaspoon
Onions medium size 2 – Thin slices
Lemon Juice ½ teaspoon
Salt to taste
Instructions
1. Wash rice and keep aside
2. Blanch Almonds and remove the shell; cut in small pieces; cut cashew nuts in small pieces
3. In a thick bottom pan, heat 1 teaspoon of ghee.
4. Add Bay Leaves, black pepper, Cinnamon, Cardimom, cloves, almond pieces, cashew pieces, Raisins, ginger, Fennel seeds, green chilly pieces. Stir on low flame till you get nice aroma.
5. Add onion slices and sauté on low flame till light brown
6. Add rice and sauté for 10 minutes
7. Peel, de-seed and chop apples in medium size pieces.
8. Add apples to rice, add chilly powder and mix
9. Add 2 cups of boiling water to rice
10. Add lemon juice and salt
11. Cook covered on low flame till rice is cooked properly; keep stirring regularly.
12. Add ½ teaspoon of ghee, mix and serve this delicious Apple Pulav with Daal fry or Tomato Saar or Curd.