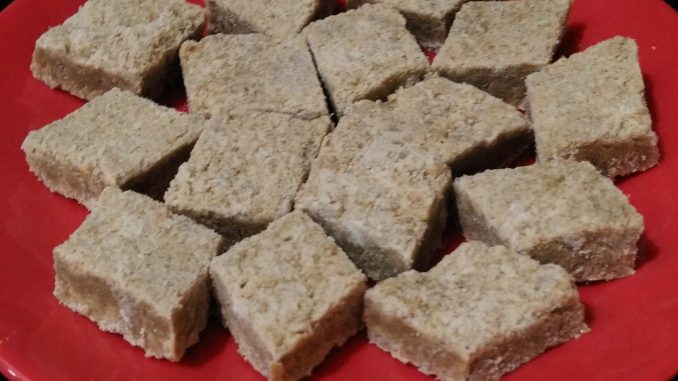 Sunthichi Vadi (सुंठीची वडी) – Dry Ginger Burfi
Sunth (Dry Ginger) has medicinal value – it is good to cure cough and digestion problems. Generally eaten in Winter and Rainy reason. This is my mother's recipe. She used to make this Vadi so nice, it used to melt in mouth.
These delicious Vadi, you can eat as Mukhvas or a couple of them along with tea.
Ingredients ( 1 cup = 200 ml)
Dried Ginger Powder (Sunth) ½ cup
Sugar 1 cup
Fresh Cream (Malai) 50 grams (about 3 tablespoon)
Pure Ghee (Clarified Butter) ½ teaspoon
Water ½ cup
Instructions
1. Roast Dried Ginger Powder (sunth) with pure ghee, on low flame, for 2 minutes.
2. In a thick bottom pan add sugar and water.
3. Cook on medium flame, stirring all the time, till the syrup is "one string" consistency.
4. Add roasted ginger powder (sunth), mix well.
5. Add cream, mix well.
6. Keep stirring on low flame till the mixture becomes thick but fluid. This will look like hot chocolate sauce and will be of thinner consistency.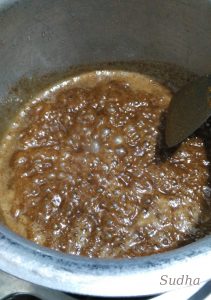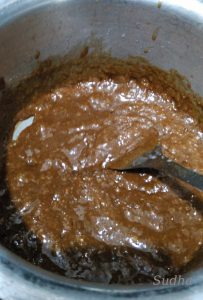 7. Turn off flame, keep stirring for 3 minutes, the mixture will start drying.
8. Transfer it to a greased plate and spread evenly, about 1 cms. thick.
9. Cut into ½ inch square pieces and allow to cool.
If you feel the mixture is too dry when you take it off the flame, skip step 7 and directly transfer it to greased plate.
If you like vadis little Tikha (Pungent), then reduce sugar proportion to ¾ cup.
Note: The most important step in this recipe is to decide when to stop cooking the mixture. However, even when you go wrong, you can still eat Vadi as Choora (powder or granules) if it is overcooked or make small laddus if you undercook. It will not go waste. So no harm in trying. If you get perfect Vadi that melts in your mouth, you get 100 out of 100 for this dish.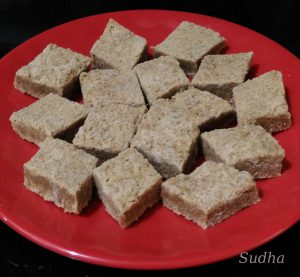 ==================================================================================
सुंठीची वडी
ही माझ्या आईची रेसिपी आहे. तिच्या सुंठीच्या वड्या तोंडात विरघळायच्या. ह्या थोड्याश्या तिखट वड्या पावसाच्या / थंडीच्या दिवसात खायला अगदी छान. रेसिपी सोपी आहे. आणि साहित्य ही नेहमी घरात असणारं आहे.
ह्या रेसिपीमधली सर्वात महत्वाची गोष्ट म्हणजे पीठ किती आठवायचं व वड्या केव्हा थापायच्या?पीठ जर पुरेसं घट्ट झालं नाही तर वड्यांऐवजी लाडू वळावे लागतील आणि जर पीठ जर जास्त सुकलं तर वड्यांऐवजी सुंठीचा चुरा खावा लागेल. अर्थात काही फुकट जाणार नाही फक्त पदार्थाचं नाव बदलावं लागेल.
साहित्य (१ कप = २०० मिली)
सुंठीची पावडर अर्धा कप
साखर १ कप
दुधाची साय ३ टेबलस्पून
तूप अर्धा चमचा
पाणी अर्धा कप
कृती
१. एका पातेल्यात तूप घालून त्यात सुंठीची पावडर मंद आचेवर २ मिनिटं भाजून घ्या. ताटलीत काढून ठेवा.
२. त्याच पातेल्यात साखर आणि पाणी घालून एक तारी पाक करा.
३. सुंठीची पावडर घालून २–३ मिनिटं मंद आचेवर शिजवा. सारखं ढवळत राहा.
४. दुधाची साय घालून शिजवत राहा. मिश्रण घट्ट होत जाईल. जेव्हा चॉकोलेट सॉस एवढं घट्ट होईल तेव्हा गॅस बंद करा.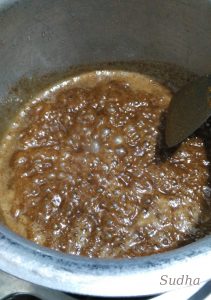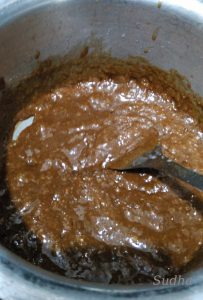 ५. मिश्रण २–३ मिनिटं ढवळत राहा. मिश्रण सुकायला लागले की लगेच तूप लावलेल्या ताटलीत पसरून वड्या पाडा.
६. गार झाल्यावर खाण्यास तयार थोड्याश्या तिखट सुंठीच्या वड्या.
टीप
१. तुम्हाला वड्या जास्त तिखट हव्या असतील तर साखरेचं प्रमाण कमी करा.   
२. गॅस वरून मिश्रण काढायला उशीर झाला आणि मिश्रण सुकायला लागले तर पाचवी स्टेप करू नका. मिश्रण लगेच ताटलीत पसरा.