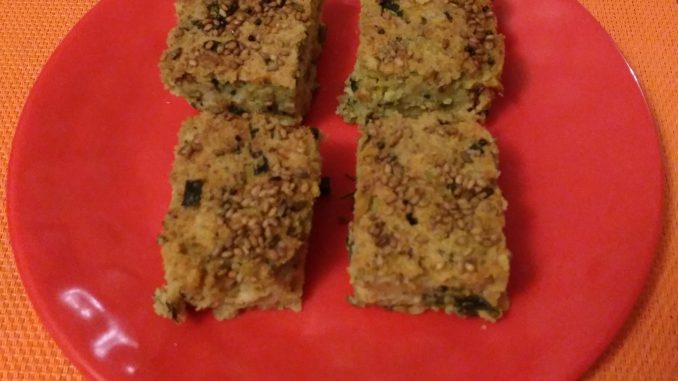 Kanda Paatiche Bhanole (Spring Onion Savory Cake)
Bhanole is a traditional snack in some regions of Maharashtra. It's made using Cabbage. I made a variation of it with Spring Onion. Added spices that I thought would taste good, tempered it with sesame seeds and baked it in oven. It turned out to be delicious. This can be a good tea time snack or a healthy option for Tiffin.
Because of sesame seeds tempering, it looks like popular Gujarati snack Handvo. But it tastes different. And it does not require any special flour like Handvo. I have used Bengal Gram (Chana Daal) and Split Red Lentil (Masoor Daal).
Ingredients
Chopped Spring Onions (leaves and bulbs) 2 cups
Split Bengal Gram (Chana Daal) ¾ cup
Split Red Lentil (Masoor Daal) ¼ cup
Red Chilly Powder ½ teaspoon
Coriander Powder ½ teaspoon
Cumin Powder ½ teaspoon
Carom Seeds (Ajwain) ½ teaspoon
Green Chilly Paste ½ teaspoon
Sugar 1 teaspoon (optional)
Curd 2 tablespoons
Fresh Scraped Coconut 2 tablespoons
Baking Soda 2 pinch
Sesame Seeds ¾ teaspoon
Oil 2 teaspoon
Mustard Seeds ¼ teaspoon
Turmeric Powder ½ teaspoon
Asafoetida (Hing) ¼ teaspoon
Salt to taste
Instructions
1. Soak Bengal Gram and Red Lentil separately for 4 hours.
2. Drain water and Grind separately into coarse paste.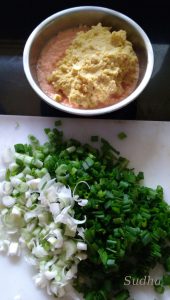 3. In a non stick pan, heat 1 teaspoon of oil on medium flame.
4. Add Mustard seeds; wait for crackle. Add Turmeric Powder, Asafoetida and Carom seeds.
5. Add Green Chilly paste and Chopped Spring Onion. Sauté for 5 minutes.
6. Add Bengal Gram and Red Lentil Paste. Mix together. Sauté for 5 minutes.
7. Add Curd, mix well.
8. Add water to make a mixture of Idli (Pan Cake) consistency. Keep cooking on low flame.
9. Add coriander powder, cumin powder, red chilly powder, salt and sugar. Mix well and cook covered for 3-4 minutes.
10. Roughly grind fresh scraped coconut and add it to the mixture. Mix well.
11. Pre-heat oven on 200 degrees for 10 minutes.
12. Switch off the gas.
13. Heat 1 teaspoon of oil in a small ladle and add sesame seeds. Switch off the gas.
14. Mix 2 pinches of baking soda in the mixture and transfer it to a greased baking tray. Spread it evenly.
15. Spread the tempering of sesame seeds on top.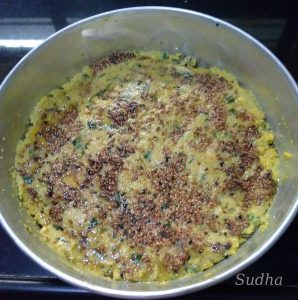 16. Bake the mixture on 200 degrees for 20-25 minutes or till the edge becomes light brown. When the toothpick comes out clean, Bhanole is ready.
17. Allow it to cool. Cut into pieces of desired shape and serve Bhanole with choice of Chutney / Sauce. It tastes nice as it is also.
18. You can store this in Refrigerator for 3-4 days. Re-heat in microwave or it before serving.