Apple, White Jamun, Walnut Salad (Fresh Fruits Salad with Ginger Honey Dressing)
This is a different type of Fruit Salad that does not use Curd. It's very light and can be served as a side dish or as a light lunch. I've used Apples, White Jamun (Wax Jambu), Grapes and Pomegranate. You can add any other fruit that does not have a strong taste and aroma. Since I've added crushed Ginger and honey as dressing, strong flavored fruits will dilute the ginger flavor. To give it a crunch, I added walnuts and roasted black sesame seeds. Black salt was added instead of normal salt. This is the first time I used White Jamun in a Salad. This salad tastes awesome.
Ingredients
Apple 1 medium size
White Jamun 6-7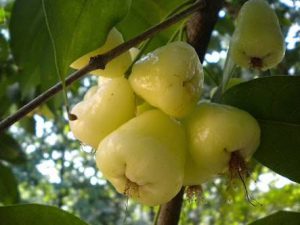 Grapes 15-20
Pomegranate seeds about ½ cup
Walnut pieces 2 tablespoon
Black Sesame seeds 1 tablespoon
Crushed Ginger ½ teaspoon
Honey about 2 tablespoon
Black Salt to taste
Instructions
1. Wash and dice Apple into medium size pieces.
2. Wash and dice white jamun into medium size pieces.
3. Wash and cut grapes into half if they are big; if grapes are small, don't cut them.
4. Roast black sesame seeds till they start to crackle
5. Mix all fruits in a bowl and keep in refrigerator to chill
6. Just before serving, add crushed ginger, honey, black salt, walnuts and toss it together
7. Sprinkle black sesame seeds and serve chilled salad.
Note:
1. If you add ginger and honey well before serving the salad, fruits will release water. So mix it just before serving.
2. You can add small pieces of Paneer (Cottage cheese) or Cheese to this salad. Add it just before serving. It tastes awesome.