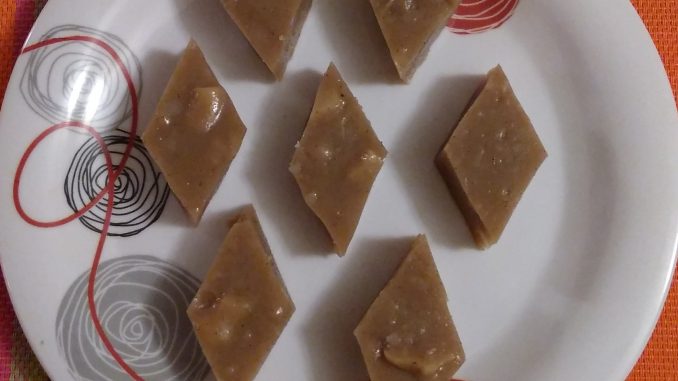 Nachani Satva / Ragi (Finger Millet) Pudding ( Sugarfree )
This is a Goan specialty – Recipe of my Mother-in-law. This pudding is mild sweet and delicious. Like most other Goan sweets this recipe also uses coconut milk and Jaggery. The main ingredient is Nachani / Ragi / Finger Millet which is very nutritious. It's a healthy Sugarfree sweet.
Ingredients
Nachani Grains (Finger Millet / Ragi) 1 cup
Fresh Scraped Coconut 1 cup
Jaggery Crushed ½ cup (adjust as per taste)
Cardamom Powder ¼ teaspoon
Cashew Nuts 2 tablespoons chopped
Pure Ghee (Clarified Butter) 1 teaspoon
Salt ¼ teaspoon
Instructions
1. Wash and Soak Nachani in water for 8 hours.
2. Grind soaked Nachani into a smooth fine paste, add water as required.
3. Strain it using a muslin cloth to remove Nachani shells
4. Transfer strained Nachani paste into a pan. Add water such that it covers the paste and there is a water layer of about 1 cm over the paste. Let it stand for 6 hours.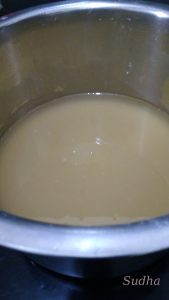 4. Drain water, the extract is superfine paste of Nachani called "Satva". Our preparation for the recipe is now complete.
5. Grind fresh coconut to make coconut milk. Transfer Satva to a thick bottom pan. Add Jaggery, coconut milk and salt.
6. Cook on low flame for 15-20 minutes stirring continuously. Mixture will be glazy.
7. Mix chopped cashew nuts and cardamom powder.
8. Grease a flat plate / tin (about 10 inch diameter) with pure ghee.
9. Add the remaining pure ghee to the mixture and spread the mixture to form a thick layer.
10. Leave it to cool to room temperature.
11. Refrigerate for 2 hours.
12. Cut into pieces and serve it cold as dessert.
13. You can store this in refrigerator for 3-4 days.