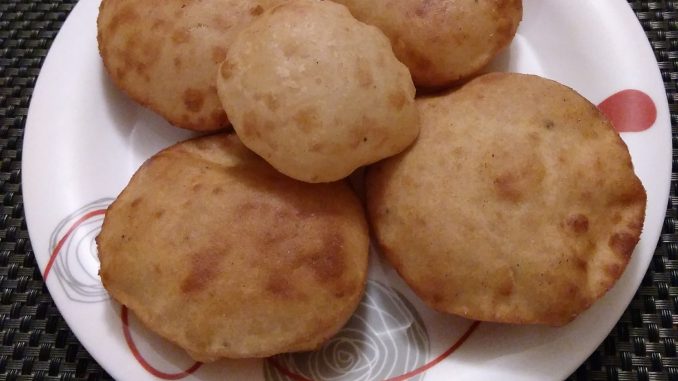 Mangalore Buns – Banana Puri (मंगलोरी बन्स) – Fried Indian Bread with Banana
These Buns are specialty of Mangalore from Karnataka. We tasted these Buns at a homestay in Dandeli. They were super delicious. Although the name is Buns these are mild sweet fried Puris (Indian Bread). Ripe / Over-ripe bananas are added to the dough and the dough is fermented. I have used Wheat Flour but you can use Maida (All purpose flour) or a combination of both. You can have these Buns warm or cold. Both taste delicious.
Ingredients (Serves 4) (1 cup = 250ml)
Ripe / Over-ripe Banana 2 medium size
Sugar 4 tablespoon
Cumin Powder ½ teaspoon
Wheat Flour 1.5 cups
Curd 1 tablespoon (you may need little more)
Baking Soda 2 pinch
Salt a pinch (optional)
Pure Ghee (clarified butter) 1 teaspoon
Oil / Ghee (clarified butter) for frying
Instructions
1. In a bowl, mix chopped Banana, Sugar, cumin powder and salt.
2. With the help of a fork, mash banana and mix ingredients together. Ripe / Over-ripe Bananas with mash easily.
3. Add Wheat flour, 1 tablespoon curd, baking soda and ghee. Bind together into soft consistency dough. If the dough is hard/ dry, add little curd. If it's too soft, add some wheat flour. DO NOT add any water.
4. Apply little oil/ ghee to your palms. Knead the dough and keep it covered for 8 hours.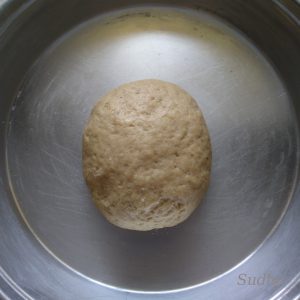 5. After 8 hours, knead the dough lightly and make small lemon size dough balls.
6. Roll the dough balls into little thick Puris. Use wheat flour for dusting if required.
7. Heat Oil / Ghee for frying. Gently slide the Puri into hot oil / ghee. Fry on medium flame. Puri will puff nicely. Fry both sides.
8. Take Puris out on a kitchen tissue.
9. Serve these delicious Buns warm or cold; with Chutney / Pure Ghee. Both taste nice.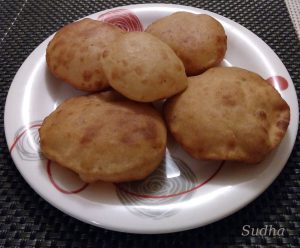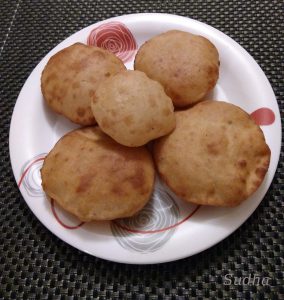 ==================================================================================
मंगलोरी बन्स
ही मंगलोर ची स्पेशालिटी आहे. पिकलेली (/जास्त पिकलेली ) केळी, कणिक, साखर आणि दही एकत्र करून पीठ मळतात आणि ८ तास आंबवून घेतात. नंतर त्याच्या पुऱ्या बनवतात. अतिशय स्वादिष्ट आणि लुसलुशीत बनतात ह्या पुऱ्या. एखाद्याला Delicious ह्या शब्दाचा अर्थ समजवायचा असेल तर हे बन्स खायला द्यावेत.
साहित्य (४ जणांसाठी ) (१ कप = २५० मिली )
कणिक दीड कप
पिकलेली केळी २ मध्यम आकाराची
दही १ मोठा चमचा (आणखी थोडे जरूर पडल्यास )
साखर ४ मोठे चमचे
बेकिंग सोडा २ चिमूट
मीठ चिमूटभर
जिरं पूड अर्धा चमचा
तूप १ चमचा
तेल / तूप पुऱ्या तळायला
कृती
१. एका बाउल मध्ये केळ्याचे तुकडे, साखर, जिरं पूड, मीठ घ्या. खायच्या काट्याने केळे मॅश करा आणि मिश्रण एकत्र करा.
२. त्यात कणिक, दही, सोडा आणि १ चमचा तूप घालून सैलसर पीठ भिजवून घ्या. पीठ घट्ट असेल तर आणखी दही घाला. पाणी अजिबात घालू नका.
३. पीठ फार सैल असेल तर थोडी कणिक घाला.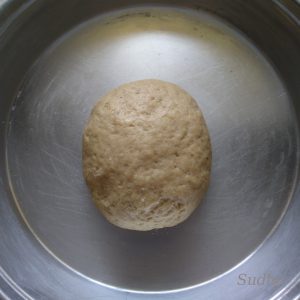 ४. तेलाचा हात लावून पीठ जरा मळून घ्या आणि ८ तास झाकून ठेवा.
५. पीठ जरासे मळून लिंबाएवढे गोळे करा आणि थोड्या जाडसर पुऱ्या लाटून घ्या .
६. गरम तेलात / तुपात मध्यम आचेवर पुऱ्या तळून घ्या. पुऱ्या छान फुगतात.
७. हे मंगलोरी बन्स गरम / थंड कसेही खाऊ शकता. चटणी / तुपाबरोबर सर्व्ह करा.