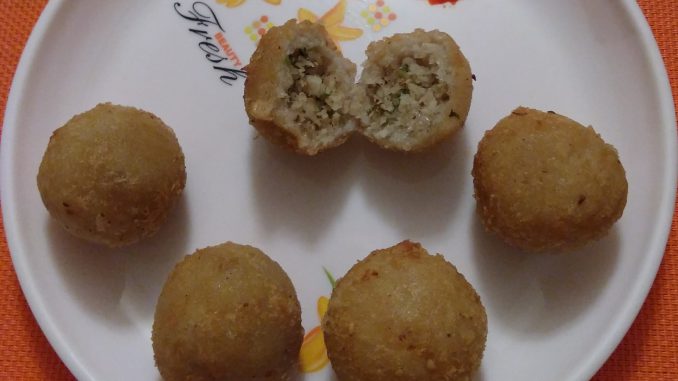 Arbi (Alkudi / अळकुडी) Pattice (Taro / Colocasia Root Croquette)
Arbi / Taro Roots are very nutritious and tasty. Generally we steam them along with Kokum and Salt and have them as a snack. Some people also make a Subji of these roots. I tried to make Pattice / Croquette using Taro roots. I added Sabudana / Sago/ Tapioca flour for binding and made a savory stuffing using fresh coconut. Pattice were super yummy – tastier than Pattice we make with Potato covering.
Ingredients
Arbi / Taro roots 10-12 medium size
Sabudana / Sago/ Tapioca Flour 1 cup (you may need more if Arbi is too sticky)
Kokum 3-4
Fresh scraped coconut 1 cup
Chopped coriander 2 teaspoon
Sesame seeds 1 tablespoon
Crushed chilly ½ teaspoon
Sugar 1 teaspoon
Oil / Ghee (Clarified butter) for frying
Salt to taste
Instructions
1. Wash Arbi and transfer to a Pressure cooker pan. Adding Kokum and salt. Do not add water. Pressure Cook till it is soft.
2. Upon cooling, peel and mash Arbi.
3. Add Sabudana flour and bind a semi soft dough. If dough is too sticky, you may need to add more flour. Use little oil / ghee while binding the dough.
4. For the stuffing, dry roast sesame seeds till they start to crackle. Roughly crush them.
5. Mix together coconut, coriander, sesame seeds, crushed chillies, salt and sugar. Stuffing is ready.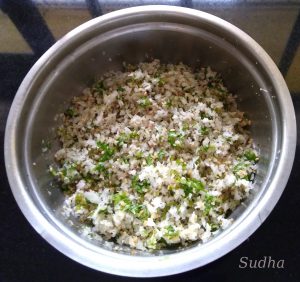 6. Apply little oil / ghee to your palms and make small lemon size balls of the dough.
7. Using your fingers, make a hollow cup of the dough ball. Stuff a spoonful of stuffing and seal the edges properly. Stuff all the dough balls this way.
8. Heat oil / ghee in a wok. Gently drop dough balls in the wok and fry them on medium flame till they are golden brown.
9. Serve hot with choice of chutney / sauce.
10. I've served Pattice with home made sweet chilly sauce.