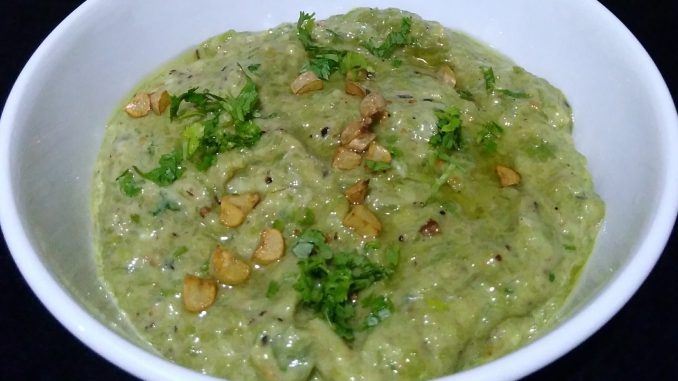 Ghosalyache (Gilki) Bharit / Raita (घोसाळ्याचे भरीत / गिलकी चं रायतं) – Sponge Gourd Salad
घोसाळ्याचे भरीत / गिलकी चं रायतं मराठी
This is a not so popular Maharashtrian recipe. I read a couple of recipes but I did not like them. So I created my own recipe. Ghosale / Sponge Gourd is very soft and watery. So if you steam it, it will become more watery and will loose it's taste. So I sautéed grated Ghosale with little Ghee (Clarified Butter) to remove the water contents from it. Then added other ingredients. But the last tempering with Garlic pieces is most important. It really enhances the taste of this Bharit / Raita. It's a very easy recipe and requires very few ingredients. Do try it. People who like Ghosale / Gilki will definitely like it but people who don't like Ghosale will also like it.
Marathi – GhosaleKannada – TuppahirekaiHindi – Ghiatorui/Gilki
English – Sponge Gourd
Ingredients (Serves 3)
Ghosale 3 medium size
Plain Yougurt (Dahi / Curd) 1 tablespoon
Roasted Peanut Coarse Powder 1 teaspoon
Sugar ½- 1 teaspoon
Green Chilly Paste ½ teaspoon
Fresh Scraped Coconut 1 teaspoon
Chopped Coriander 1 teaspoon
Pure Ghee (Clarified Butter) 1 tablespoon
Cumin Seeds ¼ teaspoon
Asafoetida a pinch
Turmeric Powder a pinch
Garlic Cloves 2 cut into small pieces
Salt to taste
Instructions
1. Peel and Grate Ghosale after checking that it is not bitter.
2. In a pan, heat ½ teaspoon ghee, add cumin seeds, wait for splutter, add a pinch of turmeric powder and asafoetida. Add grated Ghosale. Sauté on medium flame till excess water dries away.
3. Leave the mixture to cool.
4. Add roasted peanuts powder, green chilly paste, salt, sugar, scraped coconut and chopped coriander leaves.
5. Mix well. Add Curd and mix.
6. For Tempering, heat ½ teaspoon ghee in a ladle on medium flame.
7. Add Garlic pieces. Sauté till they are light brown.
8. Pour this tempering over the Ghosale mixture. Mix well. Ghosale Bharit is ready.
9. Enjoy with Roti, Rice or as it is.
Note:
1. Do not add more than a pinch of Turmeric Powder. We don't want this Bharit to be Yellow. A pinch of Turmeric enhances the Green colour of Ghosale.
2. Use Coarse peanut powder. Alternatively you can roughly crush roasted peanuts and use them.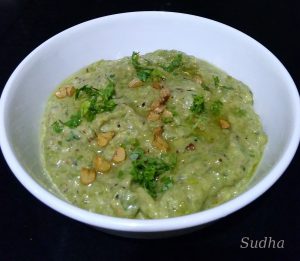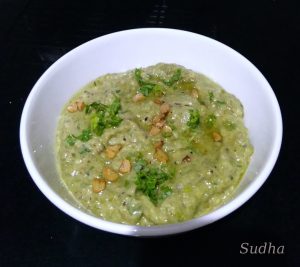 ==================================================================================
घोसाळ्याचे भरीत / गिलकी चं रायतं
मला वाटत होतं घोसाळ्याचे भरीत छान होईल. एक – दोन रेसिपीज पहिल्या पण आवडल्या नाहीत. म्हणून स्वतः च रेसिपी बनवली. घोसाळ्याला खूप पाणी सुटतं. म्हणून भरीत करायच्या आधी ते पाणी सुकवलं तर चांगलं होईल असं वाटलं. आणि घोसाळ्याला लसणीचा वास छान लागतो. मग चरचरीत लसणीची फोडणी दिली शेवटी. मस्त टेस्टी झाले भरीत. तुम्हीही करून बघा.
साहित्य (३ जणांसाठी)
घोसाळी  ३ मध्यम
भाजलेल्या शेंगदाण्याचं जाडसर कूट १ टेबलस्पून
दही १ टेबलस्पून
मिरची ठेचून अर्धा चमचा
तूप १ चमचा
जिरं पाव चमचा
हिंग चिमूटभर
हळद चिमूटभर
लसूण २ पाकळ्या बारीक तुकडे करून
साखर अर्धा चमचा
खवलेला नारळ १ चमचा
कोथिंबीर १ चमचा
मीठ चवीनुसार
कृती
१. घोसाळी सोलून कडू नाहीत ते बघून घ्या आणि घोसाळी किसून घ्या. 
२. एका पातेल्यात अर्धा चमचा तूप घालून जिरं, हिंग आणि हळद घालून फोडणी करा. 
३. त्यात किसलेले घोसाळे घाला.
४. मध्यम आचेवर परतून घ्या. घोसाळ्यातलं पाणी सुकायला पाहिजे. 
५. शिजलेलं घोसाळं गार करून घ्या. 
६. त्यात शेंगदाणा कूट, नारळ, कोथिंबीर, मिरची, मीठ, साखर आणि दही घालून मिक्स करा. 
७. आता उरलेलं अर्धा चमचा तूप गरम करा. त्यात लसणीचे तुकडे घालून लालसर रंगावर परतून घ्या.
८. ही फोडणी मिश्रणावर घाला आणि सर्व्ह करा टेस्टी घोसाळ्याचे भरीत.
९. पोळी, भाताबरोबर किंवा असंच खायला ही छान लागतं.   
टीप
१. ह्यात हळद अगदी कमी घाला. भरताचा हिरवा रंग खुलून येण्यापुरतीच हळद घालायची. 
२. शेंगदाण्याचं जाडसर कूट घाला.