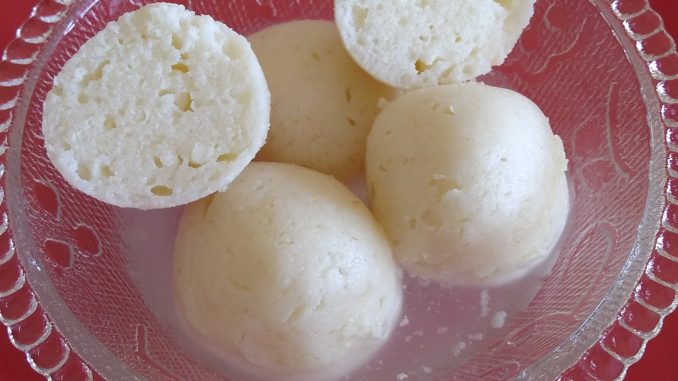 Rasagulla (Cottage Cheese Balls in Sugar Syrup) – All time favorite Bengali sweet
I used to think it's very difficult to make Rasagulla. But after trying for a few times, I found it's not difficult. It just needs some practice to make perfect Rasgulla.
Ingredients (for 8-10 Rasagulla)
Cow Milk ½ ltr
Lemon juice 2 teaspoon mixed with 2 tablespoon water
Sugar 150 gms
Powdered Sugar 1 teaspoon
Water ½ ltr
Instructions
1. Boil milk. Slowly Add lemon juice mixed with water and stir.
2. If milk does not cuddle, add 1 teaspoon of diluted vinegar (mixed with 2 teaspoon of water)
3. Pour cuddled milk on a muslin cloth. Pour water on it to remove sourness of lemon. Gently press to remove water from Paneer (cottage cheese).
4. Transfer Paneer to a grinder, add 1 teaspoon of powdered sugar and grind in pulse mode for a few seconds till you get a soft paste of Paneer.
5. Knead Paneer and Make small smooth balls.
6. In a pan add sugar and water. Boil the syrup.
7. Slowly drop Paneer balls in the syrup. Cook covered for 10 minutes
8. Remove the lid and continue to cook for 10 more minutes
9. Switch off the gas and leave the pan uncovered till it cools to room temperature.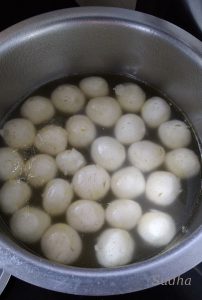 10. Transfer Rasagullas to a container; close the lid and keep in refrigerator.
11. Once chilled, Delicious, Soft, fluffy Rasagullas are ready. Enjoy.
12. Rasagulla must be stored in refrigerator.