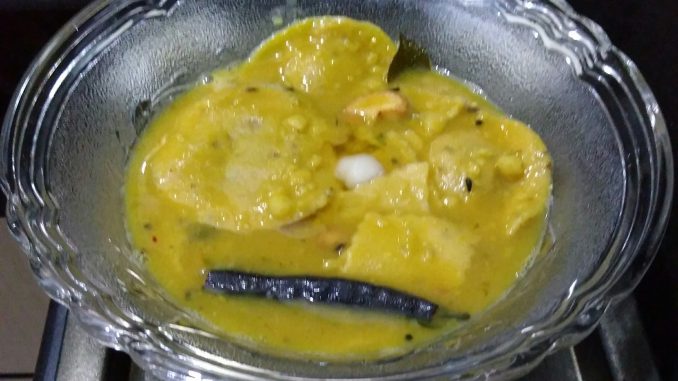 Kachoriwali Daal Dhokli (Wheat Flour Pasta & Dumplings with Pigeon Peas Stew)
Recipe credit goes to dear friend Parul Patel. I made little changes to match our taste.
Daal Dhokli is a popular Gujarati one-pot-meal. You would have had Daal Dhokli many times. But this one is different. With tasty fresh coconut filled Kachoris (dumplings) added to Daal makes it more yummy. We all like it so much that it has become a part of MyFamilyRecipes. It's a bit lengthy process; but do Try it out and you will love it.
I make Kachoris in the shape of Ravioli.
Ingredients
For Dhoklis and Kachori Cover (Pasta and Dumpling cover)

Wheat flour 1.5 cups
Chilly Powder ½ teaspoon
Turmeric Powder ½ teaspoon
Carom Seeds (Ajwain) ¼ teaspoon
Wheat flour for rolling
Salt to taste

For Daal (Pigeon Peas Stew)

Split Pigeon Peas (Tur Daal / Arhar Daal) 1 cup
Kokum 5 soaked for 15 minutes and drained
Chopped jaggery 3-4 Tablespoon
Ginger-green chilly paste 1 teaspoon
Chilly powder 1 teaspoon
Chopped Cashew nuts 15-18
Curry Leaves 10
Turmeric Powder ¼ teaspoon
Ghee (Clarified Butter) 2 tablespoon
Oil 1 tablespoon
Cumin Seeds ¼ teaspoon
Mustard seeds ¼ teaspoon
Asafoetida ¼ teaspoon
Red Chillies 2
Cinnamon ½ inch stick
Cloves 2
chopped coriander 1 teaspoon
salt to taste
For Kachori (Dumplings) Filling

Fresh Scraped Coconut 3 tablespoon
Chopped Coriander 3 tablespoon
Mango Powder ½ teaspoon
Sugar ½ teaspoon
Garam Masala (Spice Powder) ½ teaspoon
Chilly Powder ½ teaspoon
Turmeric Powder ¼ teaspoon
Coriander Powder ½ teaspoon
Salt to taste
Instructions
For Kachori Filling
1. Mix all ingredients and keep it aside for 5-7 minutes
For Dhoklis
1. Combine all the ingredients in a deep bowl and knead into a semi-stiff dough using water.
2. Cover the dough with a lid and keep aside for 15 minutes.
3. Keep ¼ of the dough aside for Kachoris.
4. From the remaing dough make big lemon size balls and roll each one into a thin circle. Use wheat flour for dusting if required.
5. Using a knife or a cutter cut into diamond or square shaped pieces about 1.5 inch length. Keep aside.
For Kachori

1. Using Dhokli dough make small thin circular puris about 2 inch diameter.
2. In the centre place kachori filling and make small kachoris in Ravioli shape as shown in photos. Keep it aside.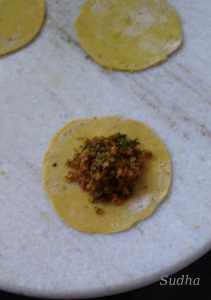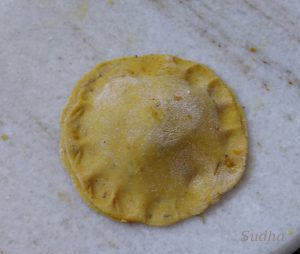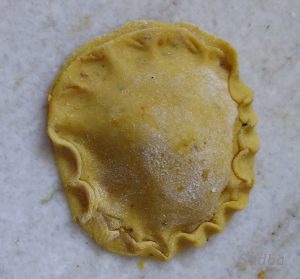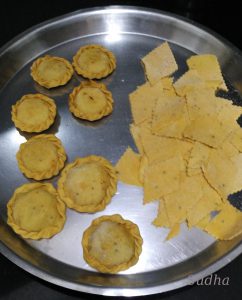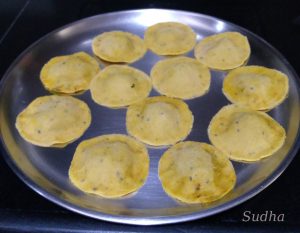 For Daal

1. Clean, wash and drain Split Pigeon Peas (Tur / Arhar Daal). Add 2 and ¼ cups of water, a pinch of Turmeric Powder, a drop of Oil and Pressure cook till it's cooked.
2. When the pressure is released, transfer the cooked Daal to a deep non-stick pan.
3. Add 1 cup water and blend it well using a hand blender till smooth.
4. Add more 2½ cups water and mix very well.
5. Place the deep non-stick pan on the flame. Add salt, kokum, jaggery, ginger-green chilly , chilly powder, curry leaves and turmeric powder, mix well and cook on a medium flame for 10 to 15 minutes, stirring occasionally.
6. If kachori stuffing is excess then add that also in daal.
7. Bring the Daal to boil and then add dhoklis and kachoris one by one. Cover the pan and cook on medium flame for 8-10 minutes stirring regularly so that dhokli doesn't stick to bottom.
8. Now for tempering, heat ghee and oil in a small non-stick pan, add the cumin seeds and mustard seeds and allow them to crackle. When the seeds crackle, add Asafoetida, red chillies, cinnamon, cloves, Cashew nuts and sauté on a medium flame. Add this tempering to the daal. Add chopped coriander and mix well and cook on a medium flame for 2 to 3 minutes, stirring occasionally.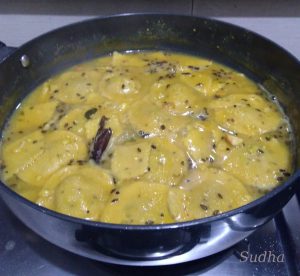 9. Garnish with coriander; in the serving plate add some ghee on the top and enjoy this delicious Kachoriwali Daal Dhokli.