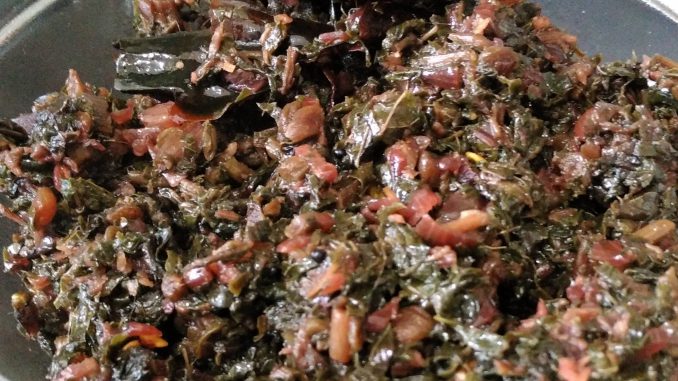 Laal Mathachi Bhaaji / Laal Math ka Saag / Tambdi Bhaaji / Amaranthus Leaves Subji
This is a simple, quick and healthy recipe of leafy vegetable – Tambdi Bhaaji / Laal Math / Amaranthus. You don't need too many ingredients and it tastes lovely. This vegetable is rich in Iron and it's recommended that you cook it in Iron Wok. It has a nice earthy taste.
Ingredients
Laal Bhaaji / Amaranthus Leaves 1 bunch
Onions 2 medium
Red Chillies 4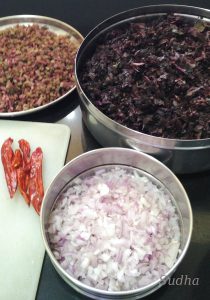 Fresh Scraped coconut 1 to 2 tablespoon
Salt to taste
Sugar 1 teaspoon
For Tempering / Tadka
Oil 1 teaspoon
Mustard seeds ¼ teaspoon
Asafoetida (Hing) a pinch
Turmeric Powder ¼ teaspoon
Instructions
1. Separate the leaves along with the tender thin stem of Laal Math. If the thicker stems are tender, peel them as well. Adding these stems enhances the taste of subji.
2. Wash the leaves and stems. Cut them fine separately.
3. Finely chop onions
4. Give a length wise slit to red chillies
5. Heat a pan (I use Iron Wok for this subji; Subji tastes awesome if cooked in Iron Wok); If you don't have one, use any thick bottom pan
6. Heat Oil, add mustard seeds, wait for sputter; Add Turmeric Powder; add Asafoetida (Hing); Add red chillies and sauté
7. Add Chopped onion and chopped leaves and stems
8. Cover and cook till subji is cooked. Open and stir every 3-4 minutes.
9. Generally subji will become moist as it releases water when cooked; If it does not and becomes dry then sprinkle 1 tablespoon of water
10. Add salt, sugar and fresh scraped coconut; mix and cook for 2 minutes
11. The tasty subji is ready. Serve with Roti or Bhakri (Jowar/Bajra/Rice) / Indian Bread (Sorghum/Pearl Millet/ Rice) or Rice.