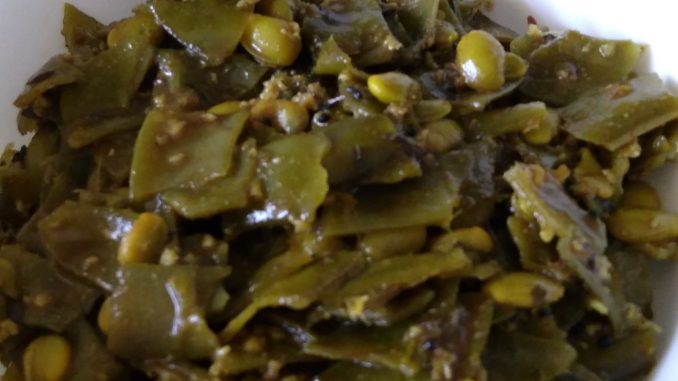 Papdi Bhaaji (Val Papdi Subji / Flat Beans Subji)
Papdi is Indian Flat Beans (also called as Val Papdi). These are Light green colour pods (photo attached). Papdi pod as well as bean inside are eaten (unlike Matar / Green Peas where we only use peas and throw away the pod).
This is an easy, non spicy, quick and tasty recipe of Papdi. This is no onion, garlic recipe.
Ingredients
Papdi (Flat Beans) 300 gms
Red Chilly powder ½ teaspoon
Jaggery 1 tablespoon
Tamarind pulp ½ teaspoon
Goda Masala / Kala Masala ½ teaspoon
Fresh Scraped Coconut 1 teaspoon
Chopped Coriander 1 teaspoon
For Tempering / Tadka
Oil 1 teaspoon
Mustard Seeds ½ teaspoon
Cumin Seeds (Jeera) ½ teaspoon
Turmeric Powder ¼ teaspoon
Asafoetida (Hing) a pinch
salt to taste
Instructions
1. Wash Papdi. Remove strings on both sides of the pod and break it into 1 cm long pieces by hand. You have to do this by Hand because when you break papdi, you can see small strings on the sides, you need to remove them. Keep the beans along with Papdi pieces.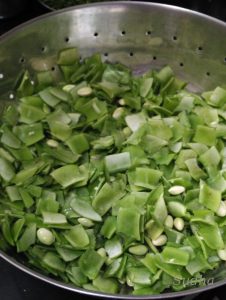 2. Wash it again
3. Heat oil in a pan on medium flame.
4. Add mustard seeds, wait till splutters; add cumin seeds, wait till sputters; add turmeric, add Asafoetida (Hing)
5. Add Papdi, sauté for 2 minutes; cover and cook for 2 minutes. Remove the lid, Sauté and cover for 2 more minutes
6. Add water enough to cover half the papdi; bring it to boil
7. Add tamarind pulp, jaggery, goda masala / kala masala, chilly powder, grated coconut, chopped coriander and salt.
8. Cook covered till Papdi is soft.
9. This subji does not have much gravy. While cooking add small quantity of water if required.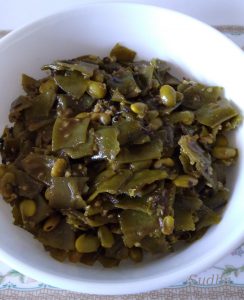 Serve hot with roti or rice.