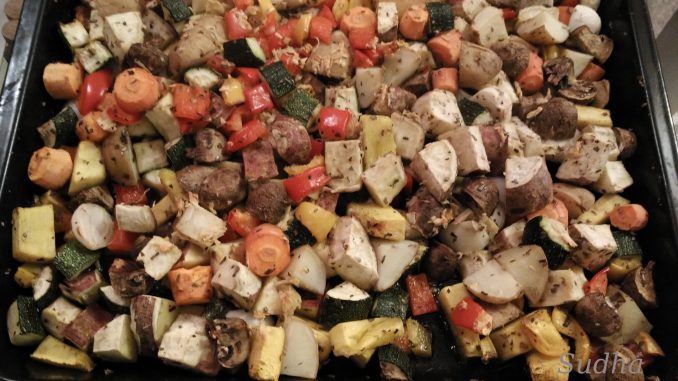 Roasted Veggies
When you are bored of eating same old spicy food and want something different and healthy, try these Roasted Veggies. It's one pot meal; mostly you won't need anything else with it. But if you like, have some soup with it. It will be a perfect healthy meal.
I've used veggies that my family likes. You can add/delete veggies as per your choice.
Ingredients (serves 4 – we ate only this; no soup / bread with it; it was sufficient)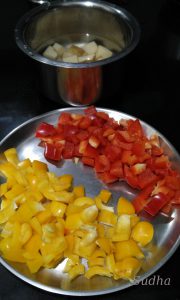 Red Pumpkin/ Kadu about 150 gms
Zucchini 1 medium size
Red capsicum 1
Yellow capsicum 1
Mushrooms 10-12
Sweet Potatoes 3 medium size
Potatoes 4 medium size
Carrots 3 medium size
Small onions 8 (I used white onions)
Garlic 5-6 medium size cloves
Oregano 1.5 teaspoon
Black salt to taste
Salt to taste
Butter 2 tablespoon
Black pepper to taste
Mango Powder/Amchoor 1 teaspoon
Lemon 1 medium size
Instructions
1. Wash all veggies
2. Peel and dice Carrots and Red pumpkin
3. Dice both capsicums, sweet potatoes, potatoes (I did not peel potatoes), Zucchini, Mushrooms
4. Peel and cut onions into halves or you can just give 2 perpendicular slits to onions
5. Grease baking tray with oil / ghee
6. Evenly Spread all cut veggies in the baking tray. Sprinkle black salt, white salt, crushed garlic, oregano, Mango Powder, lemon juice and crushed black pepper and mix it gently with a spatula and leave it for 15-20 minutes
7. Put small cubes / pieces of butter on the veggies
8. Preheat oven on 230 degrees Celsius and bake these veggies for 25-30 minutes.
9. Check after first 15 minutes and then adjust the timing. Veggies should not be over cooked. Baking time depends on the size of veggie pieces.
10. When veggies are cooked, preparation is ready to serve. Veggies are soft and juicy.
11. If you want, you can add some butter and lemon juice while serving.
12. Enjoy these delicious and healthy roasted veggies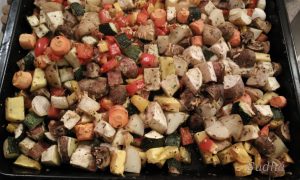 Note
1. You can also add 2 tablespoons of honey or Molasses while baking the veggies. That gives a nice taste to the veggies.
2. If you want to use whole baby potatoes, then microwave them for 2 minutes before baking them with other veggies.