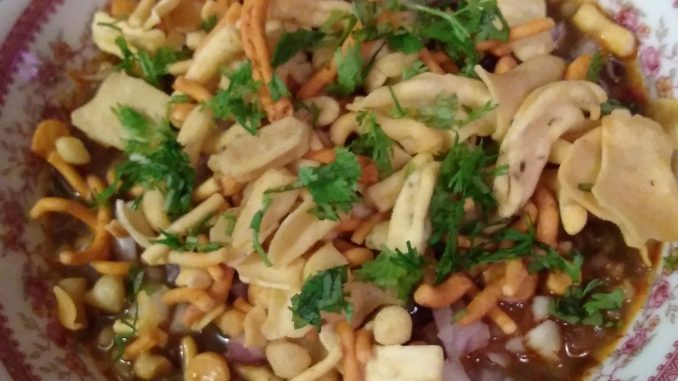 Misal – Maharashtrian Specialty Yummy Snack
Misal is a Maharashtrian specialty snack / breakfast dish. Misal has a main ingredient as Usal made using pulses. I generally use Matki for this. Matki is Moth bean / Turkish bean / Dew bean /Taittai Pairu. Misal that you get in restaurants is very oily and pungent (spicy / Teekha). So try making it at home. It's very easy.
Ingredients
Matki (Moth Beans / Turkish Beans) ½ cup
Oil 1 tablespoon + ½ teaspoon
Kashmiri Chillies 2-3
Chilly Powder 1 teaspoon or as per taste
Mustard Seeds ¼ teaspoon
Turmeric Powder ½ teaspoon
Asafoetida (Hing) a pinch
Onion 1 medium
Garlic 5-6 cloves
Ginger ½ inch
Finely chopped tomato 1 medium
Fresh Scraped Coconut 1 tablespoon (optional)
Jaggery ½ teaspoon (optional)
Chopped Coriander 1 tablespoon
Garam Masala Powder (Spice Powder) ½ teaspoon
Aamchoor ½ teaspoon
Salt to taste
For serving
Finely chopped onion 1 medium
Farsan as required
Chopped Coriander 1 tablespoon
Lemon pieces
Instructions
1. Wash and soak Matki in water for 8 hours
2. Drain water and wrap Matki in cotton cloth; tie it tight and keep covered for 8 hours for it to sprout.
3. Soak Kahsmiri chillies in water for ½ hour and using a grinder make a paste
4. Grind onion, garlic and ginger together to make a paste
5. Pressure cook sprouted Matki till it's cooked. After 1 whistle, reduce gas to low flame, cook for 2-3 minutes and then switch off the gas. Or cook it covered in a pan on low flame after adding required amount of water.
6. In a pan, add 1 tablespoon of oil; add Mustard seeds, wait till splutters; add Turmeric Powder and Asafoetida.
7. Add Onion, ginger, garlic paste and sauté till mixture is light brown
8. Add chopped tomatoes and sauté for 3-4 minutes
9. Add steamed Matki, Garam Masala, Salt, Jaggery, coconut, Aamchoor, Red Chilly paste. Add water to get required consistency.
10. Boil the mixture till gravy no longer tastes watery. This is Usal. Usal should have thin gravy but should not be watery.
11. Add chopped coriander.
12. In a ladle, heat ½ teaspoon of oil. Add chilly powder and pour this on Usal and mix. With this, you will have a nice red colour layer on Usal.
13. Usal is ready for serving.
For serving,
Add hot steaming Usal along with some gravy. Spread chopped onions, Farsan and chopped coriander. Keep a small lemon piece in the dish and serve this yummicious Misal.