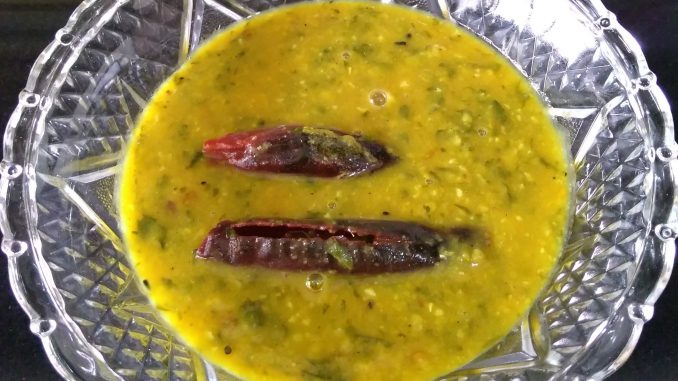 Methi Aamti (Maharashtian Specialty Daal with Fenugreek Leaves)
This is Maharashtrian Aamti (Daal) with Methi (Fenugreek) Leaves. It is very yummy. This is a quick and easy recipe that makes a tasty variation of Aamti.
Ingredients
Tuvar Daal (Toor / Arhar Daal/ Split Pigeon Peas) ½ cup
Methi (Fenugreek) Leaves finely chopped 1 cup
Dried Red Chillies 5-6
Kokum 4-5
Goda Masala ½ teaspoon
Jaggery 1-2 teaspoon (adjust as per taste)
Fresh scraped coconut 1 tablespoon
Garlic cloves 7-8 chopped
Oil 1 teaspoon
Mustard Seeds ¼ teaspoon
Cumin Seeds ¼ teaspoon
Turmeric Powder ½ teaspoon
Asafoetida a pinch
Salt to taste
Instructions
1. Wash Tuvar Daal. Add 2 cups water, pinch of turmeric powder and 2 drops oil. Pressure cook this Daal.2. In a pan, heat oil.
3. Add mustard seeds; wait till splutters. Add cumin seeds, wait till sputters. Add chopped garlic. Sauté till it turns brown.
4. Add turmeric powder, asafoetida, slit red chillies and sauté for a minute .
5. Add chopped methi leaves. sauté for a minute. Cook covered for 3-4 minutes on low flame.
6. Add cooked Daal, Jaggery, Goda Masala, salt, Fresh scraped Coconut, Kokum. Mix and cook on low flame. Add water to adjust consistency. Consistency should be like soup. Bring to boil.
7. Serve hot Methi Aamti with Roti, Paratha or Rice. This Methi Aamti with Rice and some clarified butter (home made Ghee) is a heavenly meal.