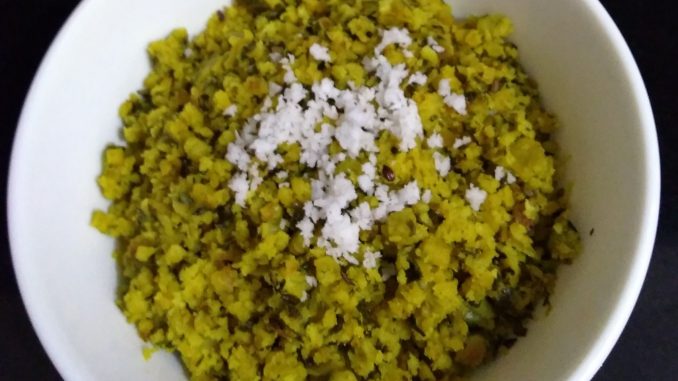 Mulyachya Palyacha Palava (मुळ्याच्या पाल्याचा पळवा ) – Radish Greens Subji
This is a famous Maharashtrian subji using leaves of Radish. Generally it's made by adding dry Bengal Gram Flour and Rice Flour to tempered and sautéed Radish leaves. But sometimes this subji becomes lumpy. So I tried a different method. And it turned out to be very good. Uniform texture, right amount of moisture and very tasty. This is a No Onion-Garlic recipe. Since Radish has a strong aroma, you really don't need anything else added to the subji.
Ingredients
Tender Radish Greens finely chopped 1 cup
Gram Flour (Besan) ¾ cup
Rice Flour half of Gram flour
Oil ½ teaspoon
Green Chillly Paste 1 teaspoon
Turmeric (Haladi) ½ teaspoon
Asafoetida (Hing) ¼ teaspoon
Salt to taste
For Tempering
Oil 2 teaspoon
Mustard seeds ¼ teaspoon
Cumin Seeds ¼ teaspoon
Turmeric (Haladi) ¼ teaspoon
Asafoetida (Hing) a pinch
Fresh scraped coconut 2 tablespoon
Sugar 1 teaspoon (Optional)
Instructions
1. Mix all ingredients (except those mentioned for Tempering) in a bowl. Add water and make a batter of dropping consistency.
2. Grease flat plates with oil. spread the batter in plates about ¾ cm to 1 cm. thick.
3. Steam for ½ hour. Use either idly maker or pressure cooker without whistle.
4. On cooling cut into small pieces about ½ inch square. Crumble with hand.
5. Heat 2 teaspoon of oil in a frying pan on medium flame.
6. Add ¼ teaspoon black mustard seeds, wait till sputters.
7. Add ¼ teaspoon of cumin seeds, wait till sputters.
8. Add ¼ teaspoon of turmeric powder and a pinch of asafoetida.
9. Add crumbs made  in step 4.
10. Add 1 teaspoon sugar (optional) and 2 teaspoon fresh scraped coconut.
11. Cook in covered pan for about 3 minutes. Mulyachya Palyacha Palava is ready. Serve as a part of main course.
Note:
1. You can also eat the pieces prepared in step 4. This is most healthy option and it's very tasty.
2. Alternatively you can deep fry these pieces in oil and serve them as snack with tomato sauce.