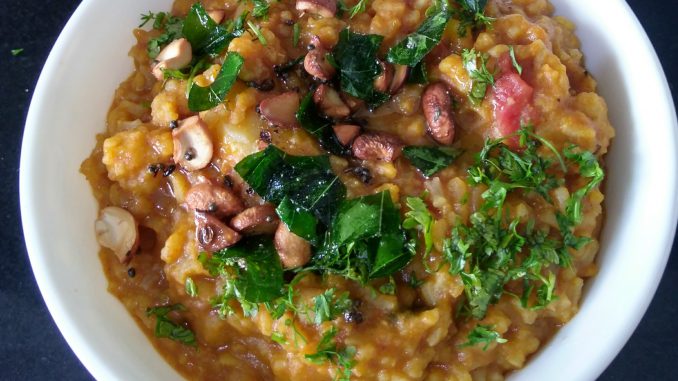 Bisi Bele Huli Anna (Bisi Bele Rice / Sambar Rice)
This is a popular Rice dish from southern India. It is Rice and Sambar (South Indian Dal / Curry) cooked together. It is one pot meal. In our family everyone likes it. So sometimes this is cooked instead of standard meal. Bisi Bele Rice served with generously added pure Ghee along with fried Papad makes a lovely meal. It's an easy recipe if you use ready made Sambar Masala. Else it is a lengthy process. I generally use ready made Sambar Masala.
Ingredients (Serves 4)
Raw Rice ¾ cup
Tuvar Dal / Split Pigeon Peas ½ cup
Onion 1 medium
Tomato 1 medium
Boiled Potato 1 medium
Tamarind Pulp 1.5 to 2 tablespoon
Sambar Masala / Curry Masala About 4 teaspoon
Oil 3 teaspoon
Mustard Seeds ¼ teaspoon
Cumin seeds ¼ teaspoon
Turmeric powder ½ teaspoon
Asafoetida ¼ teaspoon
Curry leaves 18-20
Chopped Coriander 2 teaspoon
Chopped Cashew Nuts 2 tablespoon
Salt to taste
Instructions
1. Peel boiled potato and make long medium size pieces.
2. Peel and chop onion into thin slices.
3. Chop tomato into medium size pieces.
4. Wash and pressure cook Rice and Tuvar Dal separately. Add 2 pinch of turmeric powder and 2 drops of oil to Dal before you pressure cook it.
5. In a thick bottom pan, heat 1.5 teaspoon of oil. Add Cumin seeds; wait for sputter. Add turmeric powder and half of curry leaves.
6. Add sliced onions. Sauté for 3-4 minutes on low flame. Add tomatoes. Sauté for 2-3 minutes on low flame. Add 1 tablespoon of tamarind paste. Add 1 cup of water. Cook covered on low flame till onions are cooked.
7. Add cooked Rice, cooked Dal, 1 tablespoon of tamarind pulp, Sambar masala, salt. Add water to make porridge like consistency; mix well.
8. Cook covered till all ingredients mix together. Adjust sambar masala, tamarind pulp and salt to your taste.
9. Finally add fried potato and mix.
10. In a ladle, heat 1.5 teaspoon of oil. Add mustard seeds; wait for splutter. Add Asafoetida, curry leaves. Add cashew nuts and fry slightly. Pour this on rice mixture. Add chopped coriander.
10. Bisi Bele Huli Anna is ready. Serve hot with a spoonful of Pure Ghee and some fried Papad.
Note:
1. Bisi Bele Rice thickens as it gets cold. Add water to adjust the consistency accordingly.
2. You can add any vegetables of your choice. Cook them along with onion and tomatoes.
3. Amount of Sambar Masala you need for this rice depends on the quality of Masala. It is better to add less quantity to start with and then add more if required.