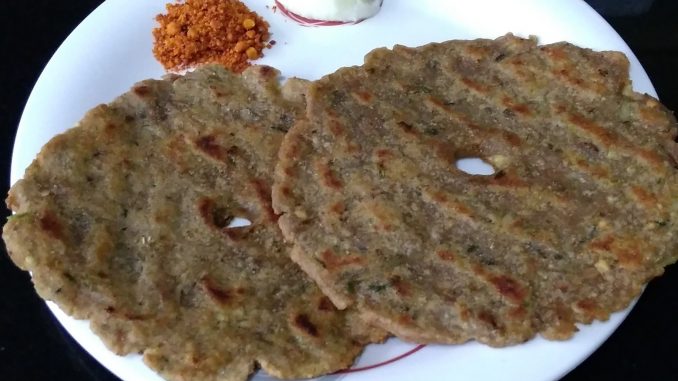 Upasache Thalipeeth / Farali Chilla – Savory Pan Cake
This Maharashtrian specialty Thalipeeth is generally eaten for Upwas / Fasting. But you can have it for breakfast / snack on non-upwas days as well. This is very simple, quick and healthy dish. Main flour used in this is Upwas Bhajani. You get it in market easily. Popular brands are Bedekar, K-Pra. Upwas Bhajani generally contains Vari (Samo Rice), Shingada (Water Chestnut) and Sabudana (Tapioca Pearls). There are roasted and ground along with cumin seeds.
If you don't have Upwas bhaani, use Shingada flour / Sabudana flour / Vari flour / Rajgira (Amaranth) flour or any combination of these.
Ingredients (makes 7-8 Thalipeeth)
Potatoes medium size 1 & Sweet Potato medium size 1 medium OR
Potatoes medium size 2
Upwas Bhajani 3 tablespoons
Chilly Powder / Green chilly paste ½ teaspoon
Sugar ½ teaspoon
Roasted peanut powder 1 tablespoon
Cumin Seeds / Powder ½ teaspoon
Buttermilk 2-3 tablespoon to bind the dough
Salt to taste
Ghee (Clarified Butter) to be used while roasting
Home made butter on serving plate
Instructions
1. Peel and grate/ mash boiled potatoes Or Wash and grate raw potatoes.
2. Wash and grate raw sweet potato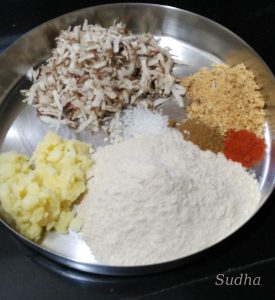 3. Mix Upwas Bhajani, Chilly powder / Chilly paste, Sugar, Roasted Peanut powder, cumin seeds / powder and bind dough using butter milk. Dough should be of medium consistency.
4. Take a plastic sheet or butter paper. Apply some water. Without water, the dough will stick to the sheet.
5. Make round balls of dough bigger than a big lemon, keep it on the sheet, dip fingers in water and pat dough with fingers to make a circular shape (thalipeeth) of Paratha thickness. Using a finger, make a hole in the centre.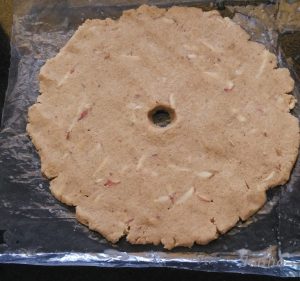 6. Transfer Thalipeeth to a hot non stick Griddle. Add few drops of ghee around Thalipeeth and in the centre hole.
7. Cover the Griddle and cook for 2 minutes.
8. Flip the Thalipeeth (Cooked side should have small brown spots on the surface).
9. Add few drops of ghee and cook the other side.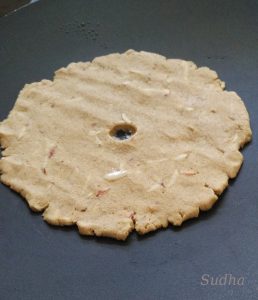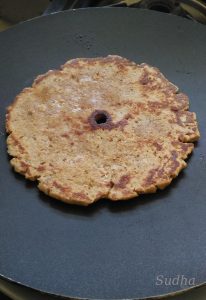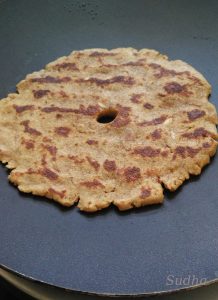 10. Serve hot with Home made butter. Tastes awesome.
Variations:
1. Instead of Boiled potato, you can use raw grated potatoes. This also tastes nice.
2. Instead of Potatoes, you can use Kand (Purple Yam) or Suran (Yam) or Raw Banana (all raw and grated)
3. Instead of using butter milk, you can use Aamchur – Mango Powder (about ¼ teaspoon) and bind the dough using water.