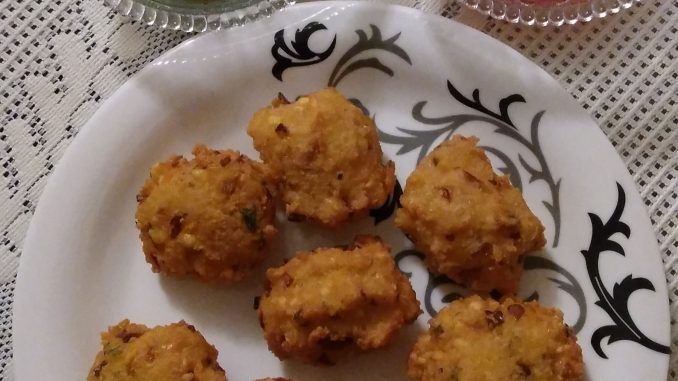 Dal Vada (डाळ वडा) – Lentil Fritters
This is a south indian specialty. There are different recipes for Dal Vada. But generally Vadas that you get in restaurants are hard. The recipe that I follow makes fluffy vadas without adding Baking Soda. I use Moong Dal (Split Green Gram) along with Chana Dal (Split Bengal Gram).
Ingredients
Chana Dal (Split Bengal Gram) 1 cup
Moong Dal (Split Greem Gram) 2 cups
Ginger Crushed 1 teaspoon
Onion medium 2 finely chopped
Chopped Coriander 1 tablespoon
Cumin Seeds (Jeera) 1 teaspoon
Green Chillies crushed 1 teaspoon
Salt to taste
Oil To Fry
Instructions
1. Wash, soak Moong Dal (Aplit Green Gram) and Chana Dal (Split Bengal Gram) separately in water for 6 hours.
2. Grind both dal separately into a coarse consistency batter. Do not add water while grinding.
3. Mix both the ground dal.
4. Add chopped onion, crushed ginger and green chillies, chopped coriander, Cumin seeds, salt into the batter.
5. Heat oil in a Wok for deep frying.
6. Add 2 teaspoons of hot oil to the batter and mix well.
7. Make small round balls, flatten them a bit and deep fry them on medium heat till golden brown.
8. Serve hot with coconut chutney and / or sauce. I've served these with home made sweet chilly sauce.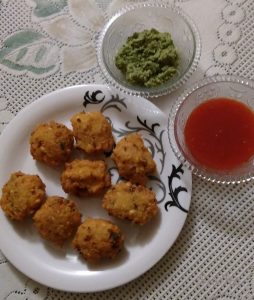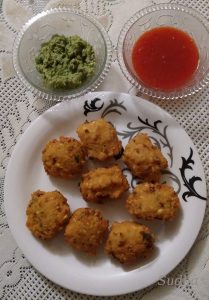 ===================================================================================
डाळ वडा
डाळ वडे ही दक्षिण भारतीय स्पेशालिटी आहे. हे चणा डाळीचे वडे असतात. पण हॉटेल मध्ये मिळणारे डाळ वडे खुसखुशीत नसतात; वातड असतात. मी हे वडे थोड्या वेगळ्या प्रकारे करते. मी ह्यात मूग डाळ ही घालते. बेकिंग सोडा न वापरता ही छान खुसखुशीत डाळ वडे बनतात ह्या रेसिपी ने. नक्की करून बघा.
साहित्य
चणा डाळ १ कप
मूग डाळ २ कप
ठेचलेलं आलं १ चमचा
कांदे २ मध्यम बारीक चिरून
ठेचलेली हिरवी मिरची १ चमचा
चिरलेली कोथिंबीर १ चमचा
जिरं १ चमचा
मीठ चवीनुसार
तेल तळण्यासाठी
कृती
१. दोन्ही डाळी वेगवेगळ्या धुवून ६ तास पाण्यात भिजवून ठेवा.
२. दोन्ही डाळी पाणी न घालता वेगवेगळ्या जाडसर वाटून घ्या.
३. दोन्ही डाळी आणि वरील सर्व साहित्य (तेल वगळून) एकत्र करा.
४. एका कढईत तळण्यासाठी तेल गरम करा..
५. २ चमचे गरम तेल मिश्रणात घालून मिक्स करा.
६. मिश्रणाचे छोटे गोळे करून थोडेसे दाबून सपाट करा आणि गरम तेलामध्ये मंद आचेवर गुलाबी रंगावर तळून घ्या.
७. गरमागरम डाळ वडे चटणी / सॉस बरोबर सर्व्ह करा.