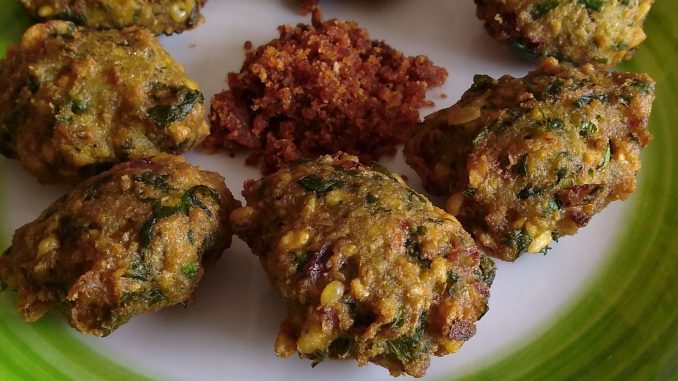 Palak Vade (पालक वडे) – Spinach Fritters
Spinach is a versatile leafy vegetable that goes well in different types of recipes. There are different recipes of Palak Vade. I use soaked Lentils for these fritters. It makes very crispy and yummy Vade without using soda. Try this out.
Ingredients (1 cup = 250 ml)
Finely Chopped Spinach (Palak) 1.5 cups
Split Petite Yellow Lentil (Moong Daal) 1 cup
Split Chickpeas (Chana Daal) ½ cup
Ginger Crushed 1 teaspoon
Onion 1 Medium finely chopped
Cumin Seeds (Jeera) 1 teaspoon
Green Chilies crushed 1 teaspoon
Red chilly powder ½ teaspoon
salt to taste
Oil To Fry
Instructions
1. Wash, soak Split Petite Yellow Lentil (Moong Daal) and Split Chickpeas (Chana Daal) separately in water for 4-6 hours.
2. Grind Daal separately into a coarse paste. Do not add water while grinding.
3. Mix both the ground Daal and chopped Spinach.
4. Add chopped Onion, crushed Ginger and Green chilies, Red Chilly Powder, Cumin Seeds, salt into the mixture. Mix the batter.
5. Heat oil in a deep pan.
6. Add 2 teaspoons of hot oil to the batter and mix well.
7. Make small round balls of batter, flatten and fry them on medium heat till light brown.
8. Serve hot with chutney and / or sauce.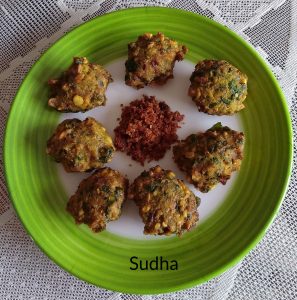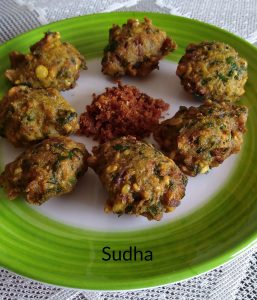 ==================================================================================
पालक वडे – कुरकुरीत वडे – सोडा न घालता
पालक भाजी वापरून वेगवेगळे पदार्थ करता येतात. पालकची चव ही छान असते आणि पालकमुळे पदार्थाला टेक्सचर पण छान येतं. पालक वडे वेगवेगळ्या प्रकारे करतात. ह्यात मी डाळी भिजवून घालते. खायचा सोडा घालत नाही. तरीही वडे छान हलके आणि कुरकुरीत होतात.
साहित्य (१ कप = २५० मिली)
बारीक चिरलेला पालक दीड कप
मूग डाळ १ कप
चणा डाळ अर्धा कप
ठेचलेलं आलं १ चमचा
कांदा १ मध्यम बारीक चिरून
जिरं १ चमचा
ठेचलेली हिरवी मिरची १ चमचा
लाल तिखट अर्धा चमचा
मीठ चवीनुसार
तेल तळण्यासाठी
कृती
१. मूग डाळ आणि चणा डाळ वेगवेगळ्या धुवून पाण्यात ४–६ तास भिजवून ठेवा.
२. दोन्ही डाळी वेगवेगळ्या मिक्सरमध्ये जाडसर वाटून घ्या. वाटताना पाणी घालू नका. 
३. एका वाडग्यात वाटलेल्या डाळी, चिरलेला पालक आणि बाकी सर्व साहित्य (तेल वगळून) घाला आणि एकजीव करा.
४. वडे तळण्यासाठी कढईत तेल गरम करा.
५. २ चमचे कडकडीत तेल मिश्रणात घाला आणि एकजीव करा.
६. मिश्रणाचे छोटे छोटे गोळे करून हाताने दाबून जरासे चपटे करा आणि मध्यम आचेवर खमंग तळून घ्या.
७. गरम गरम वडे चटणी / सॉस सोबत खायला द्या.